Indus Tower Achieves 30% Energy Savings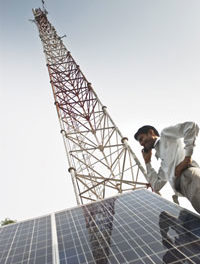 Indus Towers, nine-year old India's largest telecom tower company, has reported a nearly one-third saving in energy use by using solar and moving the towers outdoors. It currently operates over 1.22 lakh towers across India.
The company reported reduction in consumption of diesel by 10.39% and reduced CO2 emissions per tenancy over 2014-15 by 5.03%. The company has crossed 50,000 diesel-free sites by utilizing non-polluting backup sources of energy and multiple energy efficiency measures. It has deployed solar solutions at 1000+ sites so far.
Manoj Kumar Singh, Chief of Regulatory Affairs, Sustainability & CSR, Indus Towers, said the roll-out of the 4th Generation data networks has put enormous strain on the tower infrastructure but they are ready for the challenge. Bimal Dayal, CEO, Indus Towers, said "Sustainability defines the way we operate and maintain our relationship with our stakeholders."
Highlights from its third annual Sustainability Report 2015-16
Growing total number of 'Green Sites' to 50,461; achieving 25-30% energy saving
from solar-cooling units by converting 50% of its tower portfolio to outdoor sites
Over 13,990 sites converted from indoor to outdoor
Deployed solar solutions at 1000+ sites to reduce CO2 footprint
Reduction in consumption of diesel by 10.39%,
ID – OD conversion lead to 40,955 kg/annum reduced CO2emissions
Providing near perfect uptime of 99.98% with 2,70,006 tenancies and 1,19,881
towers in 2015-16 in India(2016-17 – Tenancies 2,82,909& Towers 1,22,044)