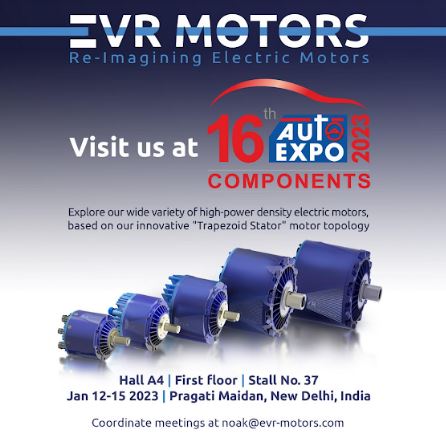 Leading Israeli startup EVR Motors will showcase a range of high-power density electric motors, based on its innovative "Trapezoid Stator" motor topology at Auto Expo Components 2023 in Pragati Maidan, New Delhi.
EVR Motors – Auto Expo invite
EVR motors has developed a unique, patented motor topology: The "Trapezoidal Stator" Radial Flux Permanent Magnet (TS-RFPM) Motor. Compared to standard motors, EVR's electric motors are 30%-50% lighter and smaller, cost significantly less and can be tailored to user requirements. EVRs first motors were designed for 2-wheelers and 3-wheelers and are suited for a wide range of additional applications.
EVR will now showcase the new developments of a variety of motors for multiple mobility applications. These include Light Commercial Vehicles (LCVs) and e-buses along with it's previous developments for 2-wheelers and 3-wheelers.
This will enable OEMs to make the transition towards electric mobility easier and faster, since motors can be tailored for a wide variety of requirements and enable multiple variations based on similar design and tooling: Different sizes and power, internal or external rotor, voltage ranging from 48V to 800V, air or liquid cooling, etc.
Opher Doron, CEO of EVR Motors, " We are excited to showcase our expanding line of electric motors at the Auto Expo. In the past year we have signed several commercial contracts with Indian manufacturers, and we expect to see multiple motor versions on the road during 2023. India is a focal point for our activity, combining a rapid shift towards electrification with an amazing industrial base, and we are here to demonstrate our advanced technology to Vehicle Manufacturers."
The Auto Expo Components show will take place Jan.12-15, 2023, at Pragati Maidan in New Delhi. EVR Will exhibit hall A4, first floor stall number C37.
About EVR Motors
Israeli startup EVR Motors designs advanced electric motors to meet every customer's specific requirement. The company's electric motors are based on proprietary technology that reduces weight, volume, and cost relative to traditional state of the art motors. EVR Motors partners with OEMs and Tier 1s interested in manufacturing superior e-motors, and supports its partners through all the phases, from motor design through prototyping to manufacturing preparation.
EVR is now developing a variety of motors, suitable for most mobility and industrial applications in it's facilities in Israel.
The company has been managed since 2019 by Opher Doron, who served in his previous position as the VP and General Manager of the Space Division at Israel Aerospace Industries, and led the led IAI's team in the design and build of SpaceIl's Beresheet lunar lander, and during Israel's breakthrough mission to the moon. Opher Doron was also responsible for developing, constructing, launching, and operating the aerospace industrys communication and observation satellites for Israeli and foreign users.
EVR Motors was founded by its current president and COO Eli Rozinsky, together with Victor Kislev and Ruslan Shabinski. The companys chairman is Ophir Shoham, former Director of the Defense R&D Directorate at the Israeli Ministry of Defense (MAFAT) who manages Marius Nacht's investments in high-tech.
EVR Motors largest investor is Marius Nacht, a leading figure in serial entrepreneurship, technology companies, and high-tech investments in Israel. In addition, EVR received grants from the Israeli Innovation Authority and the BIRD Foundation.