In my formative years in Pune (India) in the 1990s, I vividly remember attending sugarcane harvests with my relatives. The waste from these harvests would be dragged to the edges of fields and burnt.
The memory of these burnings, the subsequent thick smoke, and the overall quantity of waste has stayed with me ever since. Environmentally, the world was a different place then. India was in a period of economic liberalisation and the environment was on the periphery of public thought and political discussion. Further afield, there were no climate movements and the green movement was years from taking centre stage.
With little thought or attention to the environment, global farmers were burning waste and their fields, to remove stubble and weeds in order to sow fresh crops. While it was cost-effective, the process produced alarming levels of land and water pollution, and reduced soil fertility.
Sugarcane waste and burning issues associated with it became superseded by plastic. It is estimated that 70% of plastic consumed in India is simply discarded. Consequently, India is drowning in its own plastic waste.
In 2015, during my postgraduate studies at the University of Southampton, I attended 'Paperworld' in Frankfurt – the world's largest paper trade show. I was shocked at the scarcity of truly sustainable paper products on show. Images of piles of wastepaper were at the forefront of my mind, reminding me of those sugarcane experiences from home. The sheer waste of it all greatly disturbed me.
As I flew back to the UK and had read an article about plastic waste, the idea behind envoPAP was born. Making better use of abundant sugarcane waste meant high-quality, environmentally friendly and ecologically viable printing/packaging products could be created. Additionally, plastic waste could be reduced, and the rate of deforestation slowed. Never has the axiom, 'One man's trash is another man's treasure' seemed more pertinent. I felt I had a viable solution to several interconnected problems.
Since that epiphany, I've been convinced that packaging innovation lies in the optimal use of waste materials. Once I'd returned from Frankfurt, and with the initial financial support of family and friends, I founded envoPAP to raise standards in sustainable packaging and paper, breaking the 'take, make, dispose of' cycle for a circular approach.
However, sustainable rhetoric is nothing without demonstrable action. Since its inception, envoPAP has combated climate change by saving over 760,000 trees globally from deforestation. We hope to reach 10 million by 2030.
We have deliberately made our product easy-to-scale. We've done this by ensuring it can easily plug into clients' printing machines. We didn't want to create a new material, scale up our production and then find customers' different supply chains made scalability difficult. Rather as Apple did in comparison to the desktop PC, we've made envoPAP products very easy to use for paper and packaging companies. This also makes our global expansion easier.
Founders Factory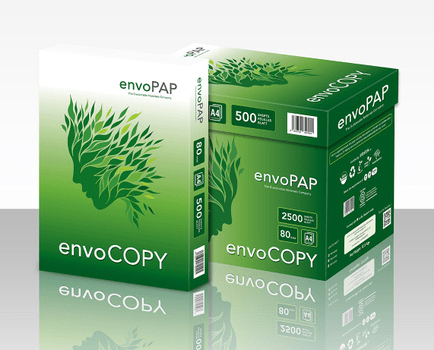 As we have grown, we've been backed by angel investors, venture funds and have also had the support and mentoring from accelerator-turned-incubator, Founders Factory.
In 2020 to date, we've raised £390,000 from the crowd-funding platform, Crowdcube and secured B Corporation status – one of the most stringent tests globally to prove social and environmental performance. We are now one of the 3,300 companies globally to have achieved this.
Trading remains strong and we anticipate revenues in our current financial year to exceed £5 million.
We now trade in over 50 countries and our environmentally friendly packaging and paper products are used by some of the world's most recognisable brands and blue-chip companies such as Suedzucker for sugar packaging, L'Oréal and many more.
The benefits of using sugarcane waste to make paper are not just beneficial for the environment, we also help Indian farmers plant and process their sugarcane more efficiently and provide them with technical expertise to take advantage of the ready market for their produce.
We are working with more farmers and contractors each year and have begun to purchase their wheatgrass waste and convert it into usable pulp. Without our intervention, this waste would be burnt at harvest and exacerbate India's winter smog problem, especially in Delhi. This is our contribution to addressing India's air pollution challenges.
On reflection, waste, whether reducing or making better use of it, is the thread that ties the different chapters of my life together. It connects back to my early days in India, through to starting a company which is internationally recognised for making a difference. But there is still so much more to be done and we will not rest on our laurels at envoPAP on that journey. We've been focused on Indian waste to date. The question for us is: where next? In the next couple of years, we will be looking for more local waste all over the world.