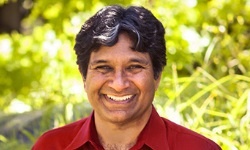 Prof. Ram Nidumolu
Prof. Ram Nidumolu is the managing director of the Academy for Innovation and Management (AIM), a Bengaluru-based institution that provides executive education programs in fast-emerging areas of management. He is also the CEO of California-based Innovastrat, Inc., a strategy consulting company that provides advisory services on the next practices of business to Fortune 500 companies. Dr. Nidumolu has more than 25 years of experience in strategy and innovation consulting and research with US enterprises. He has worked at the C-level with leading companies such as Medtronic and the Aditya Birla Group in India, and Harley-Davidson, Alcoa, FedEx, Clorox, Intuit, Puma, and others in the US.
Prof. Nidumolu's thought leadership on sustainable business has appeared in the Harvard Business Review, the Stanford Social Innovation Review and at leading international industry consortia such as the Corporate Eco Forum and the Natural Capital Coalition. He was the lead author of the Sept 2009 Harvard Business Review cover article, "Why Sustainability is Now the Key Driver of Innovation," (co-authored with the late Prof. CK Prahalad). This article accelerated the field of sustainable innovation and won the Emerald 2013 Citation of Excellence Award honoring the 50 most outstanding articles published by the top 300 management journals in the world. Dr. Nidumolu was also the lead author of "The Collaboration Imperative," featured in the April 2014 issue of the Harvard Business Review, which describes models and next practices for enabling transformative business collaboration.
Prof. Nidumolu is also the author of Two Birds in a Tree: Timeless Indian Wisdom for Business Leaders (Berrett-Koehler and HarperCollins India, 2013). This pioneering book introduces the concepts of being capital, beingful leadership and dharma capitalism, which apply ancient Indian wisdom to modern business practices in order to enable sustainable business. The book has received glowing reviews from CEOs of leading companies such as Unilever, Patagonia, PepsiCo India, USL, and others.
Dr. Nidumolu was previously the founder and CEO of a software services company in Silicon Valley that provided CRM solutions to the high tech industry. He was also on the faculty at the business schools at Santa Clara University and the University of Arizona for almost a decade. He is also an affiliated scholar at the Kozmetsky Global Collaboratory at Stanford University. He received his Ph.D. in Management at the Anderson Business School at UCLA, his PGDM from IIM Calcutta and his BE (ECE) from the Indian Institute of Science.