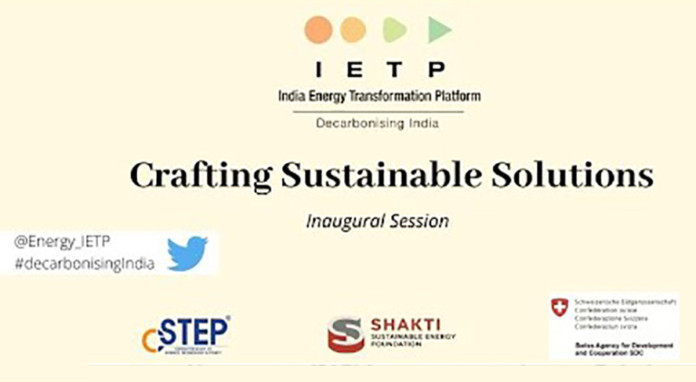 The India Energy Transformation Platform (IETP) for decarbonizing India has shortlisted 27 technologies and has made four recommendations that could help this country's transition to a low-carbon consumption society by 2030 more confidently. They span across generation, sector coupling and storage. See full list of technologies here.
IETP came up in February 2020. It's an informal, independent, and multi-stakeholder group of experts who aim to develop an informed narrative on India's strategies for meeting its Nationally Determined Contributions (NDCs) through non-linear, transformative solutions. This unique initiative intends to ensure that 'India stays ahead of the curve and cements its leadership in the global transition to clean energy – even beyond 2030.' It's a bold attempt to explore non-linear thinking and focus on themes across the energy system.
IETP platform was conceived by the Swiss Agency for Development and Cooperation (SDC) and Shakti Sustainable Energy Foundation (SSEF), with the Bengaluru-based Center for Study of Science, Technology and Policy (CSTEP) as its secretariat. www.ietp.in.
IETP has identified four areas for research: urban space cooling; decentralized energy systems; technologies for renewable energy (RE); and energy efficiency in industrial processes.
It's key recommendations are:
Develop a roadmap for concurrent deployment of complementary storage solutions, including pumped storage, power to hydrogen, and batteries.
Establish standard guidelines for procurement of storage solutions.
Increase investments in R&D for technologies to enable this transition.
Create an enabling ecosystem (markets) for emerging technologies like hydrogen
These recommendations are timely as India has no choice but to learn to align its goals to achieve optimum outcome. The report notes: "Renewable energy will continue to play a crucial role in fulfilling India's NDC commitment of reducing the energy intensity of its GDP by 33 to 35 percent from the 2005 levels (by 2030). Having set ambitious goals for a RE-dominant energy sector, India needs to look at enabling this transition promptly.
The platform founders believe that India's energy transition towards sustainable energy systems should look beyond the NDCs and 2030 timeline. "It must take advantage of technology developments around the world to leapfrog into an advanced system that brings a better quality of life to all its citizens."
This can happen if India looks –
Beyond urgent and short-term priorities
Envision completely different paradigm for planning and operation of energy systems
Identify innovative business models in the organized and unorganized markets
Identify "triggers" for transitions and develop a collective vision to take on the alternate paradigms