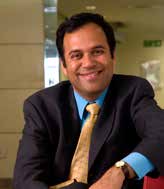 With 2020 Legacy of Good plan, Dell has set aggressive targets to retain its leadership position as a responsible IT company. Ganesh Lakshminarayanan, VP, Commercial Sales Operations, Dell APJ & Executive Sponsor, Dell Giving Initiatives for India, shares Dell India's plans with SustainabilityNext
How is Dell migrating from CSR to a Sustainability focused organization in India?
Dell's recently launched 2020 Legacy of Good Plan strengthens our strategy for bringing sustainability and business objectives together to benefit customers while simultaneously leaving a legacy of good. Dell's 2020 goals bring into focus the strategies behind Dell's Powering the Possible commitment.
Dell Powering the Possible is our commitment to put technology and expertise to work, where it can do the most good for people and the planet – making possible today what was impossible yesterday.
Powering the Possible falls into four broad action areas:
Fostering environmental stewardship, based on taking a lifecycle approach that begins with designing with the environment in mind and continues through responsible recycling.
Promoting supply chain responsibility, which includes promoting supplier diversity, promoting responsible labor practices among our suppliers, and taking a leadership role in driving conflict-free sourcing for the electronics industry.
Empowering our people, building an inclusive workforce that thinks as differently as it looks.
Giving back to communities: we take a holistic approach to giving that supplements funds with technology, expertise and volunteerism. Our efforts focus on promoting Youth Learning through access and skills acquisition, helping accelerate treatments for pediatric cancer, encouraging social entrepreneurship among students, responding to disasters and supporting our team members' own engagement with other community groups they care about.
As a part of Dell's 2020 Legacy of Good Plan, we have put together 21 goals related to the environment, our communities, and our people. The plan will become an accelerator for successful and sustainable customer and societal outcomes through 2020 and beyond. This is our promise, and it will leave a legacy of good.
What are Dell's current sustainability plans for India?
'Dell in 2009 was the first major computer manufacturer to ban the export of non-working electronics to developing nations. As a leading technology provider, Dell aims to help prevent the unauthorized dumping of electronic waste in developing countries by requiring that equipment be tested and certified as "working" prior to export.
Through this and other programs, Dell has diverted more than 68 million kilograms (150 million lbs.) of end-of-life electronics globally from landfills in fiscal year 2011. Since it launched its recycling program globally in 2006, Dell has recycled more than 125 million kilograms of electronic equipment. Dell is currently on track to recycle more than one billion pounds of e-waste by 2014.
On the consumer awareness front, Dell has taken the following initiatives to create awareness among consumers about safe recycling:
Launch of 16 electronics recycling collection points 
Reinforcing its commitment to encourage and enable free and responsible ways of disposing old equipment, Dell recently launched 16 electronics recycling collection points for consumers across 13 cities in India. The program is brand and product agnostic –consumers can now drop off any brand or any type of product to be recycled.
Free laptop battery recycling program 
In an effort to increase awareness and participation from consumers in India, Dell launched a free laptop battery recycling program in India for consumers in June 2012. When consumers return their non-working lithium ion batteries from the Dell Inspiron, Studio, XPS and Vostro laptop ranges for recycling, Dell offers a discount of Rs. 500 towards the purchase of a replacement Liion Dell laptop battery in return.
Dell Go Green Challenge 
In 2011, Dell announced the "Dell Go Green Challenge" that invited consumers/individuals to share ideas and innovations on green technology through photographs or videos online. The program received a positive response with contestants submitting more than 600 ideas. The top three entries were awarded with Dell Inspiron products in recognition. In an effort to encourage recycling of personal computers in India, Dell also launched a special discount coupon program where consumers could send their old computers to Dell for free recycling and redeem a coupon of Rs. 1000 on the purchase of their next Dell computer.
Dell understands that Individual Producer Responsibility allows producers to internalize the costs of responsibly managing their own brand of products at the end of the products' useful lives, and thus factor those cost impacts into product design decisions.
What are India plans as part of the Legacy for Good global plan of Dell?
India will continue to stay the course and in addition to the examples given above, will build on its strategic initiatives such as Youth Learning and engaging with the community. Close to 70% team members in India invest their time within the community, leveraging their skills and expertise to make a difference in the community.
What's Dell's view of the IT industry becoming a responsible global sector – what trends in this direction lead to hope or despair?
Dell's 2020 Legacy of Good plan is a long-term corporate responsibility framework designed to aggregate and accelerate the ways that Dell and its IT solutions help customers, Dell team members and communities make lasting contributions to the planet and society.
The 2020 Legacy of Good plan is divided into three areas – the Environment, People, which includes Dell's 100,000- plus team members worldwide, and Communities. Adding intentional value to each of these areas in the coming years complements the company's overarching purpose – to provide technology that enables people everywhere to grow, thrive and reach their full potential.
Till date, no industry-standard of measurement currently exists to fully assess how IT-industry customers, which includes the world's largest private and public-sector enterprises, are using IT to become more socially responsible by deploying efficient and sustainable solutions. Ultimately, a firm understanding of the full-spectrum impact of technology across IT companies and the customers' environments will enable Dell – and others in the industry – to identify areas of opportunity for innovation and optimization.
Dell also will work with industry stakeholders, including suppliers, partners and competitors, to develop a method for more accurately assessing the "net positive" impact of IT on society, including the ways IT customers use and benefit from increasingly environmentally-sustainable and efficient IT solutions.