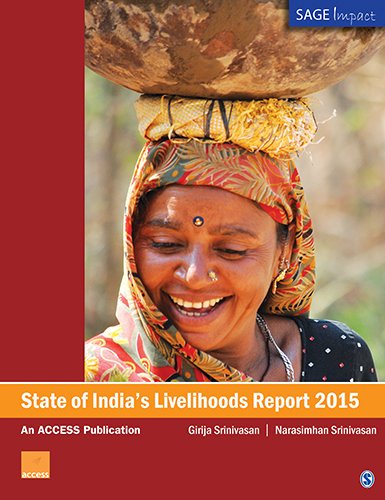 The Indian economy may be growing at a brisk 7 plus percent, but is it resulting in corresponding growth in employment? It is not. Are the poor households most affected by this economic mishmash? How much does that affect the livelihoods of those without resources and what are the effective policy measures that could help in mitigating this?
These and more are discussed in 'State of India's Livelihoods Report 2015, by Girija Srinivasan & Narasimhan Srinivasan, published by SAGE Impact 2016.
The tough questions and perhaps some answers to them are put out in this report. The questions are: Are the target people part of project design and implementation? How much trust do the players enjoy, if not, what measures are needed to build trust?
Agriculture-based livelihoods suffer from a crisis of confidence. Indebtedness is rampant. And this year's drought is going to make it worse. This 'Livelihoods' report reflects on these issues and offers rich insights.
The report wonders why success of AMUL and GCMMF has not been replicated in other states. It notes that "Success in organizing livelihoods is not just about having sound ideas, but also the passion and commitment." The diary sector needs better attention. Good Designed Project Needed to Lure CSR. The report rightly observes that the new-age corporate CSR is more keen on skill development rather than addressing real livelihood issues. The report asks NGOs and volunteers to offer professionally designed livelihood projects for CSR spending. It has asked the private sector including microenterprises to step up and do their best for solving livelihood issues.
It rightly asks, "When do we plan to have a ministry or a department to look at livelihoods issues in an integrated manner instead of silos." The report is a useful book of conscience to everyone working in the livelihoods field. The challenge is to translate conscience into faster results.!