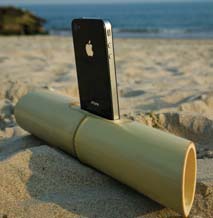 iBamboo: No need for an outlet, or batteries, or any high-tech gear at all! iBamboo portable speakers are bamboo cut to the usual portable speaker size with a slot on the top to rest your iPhone. Turn your phone's speaker on, set it in the slot, and the natural acoustics of the bamboo will amplify the sound, no electricity required. The big downside for audiophiles is that because it only amplifi es the iPhone's mono speaker, the sound will still be mono. iBamboo is compatible with iPhone 4 through 5s and is available in natural and black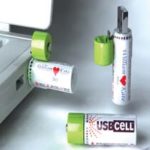 USBCell Rechargeable Batteries: With billions of alkaline batteries dumped each year, why add to the waste? USBCell offers AA batteries that operate and look just like normal AA, but the positive end opens to reveal a USB plug that will connect to any USB charger, including your computer. Five hours will charge them 90 percent, and they can also be used with NiMH chargers
Water Pebble: If there's anything modern society does well, it's wasting water by taking long showers. Water Pebble helps you reduce your shower time in a simple way. Put it near the drain and it will monitor how much water goes down. Using that as a benchmark it will display lights—green, orange, and red—to let you know when you're using more than your last shower. Every time you shower, Water Pebble will reduce the time by seven seconds, helping you shorten your showers without having to deal with anything but looking at the indicator lights (you can reset it if your showers are getting too short). It costs $10 to $20, depending where you buy it.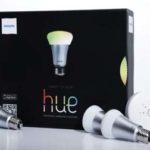 Philips Hue Connected Bulb: These LED bulbs use 80 percent less power than normal light bulbs and you can control not only their intensity, but their hue as well—from your smartphone. The Philips bulbs connect over your Wi-Fi, allowing you to use an app to control hue and dimming for each individual bulb. They still work like regular bulbs if you don't have your phone around you, and they still use less energy. The app has presets for the bulbs to create different light settings like a sunrise or specifi c hues for different moods. You can even upload your own picture and use the app to recreate the lighting in it. You can also set timers and alarms for the bulbs if you want your lights to be in sync with an alarm or to suggest that it's time to go to sleep.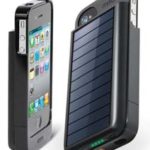 Eton Mobius: Eton put out a rechargeable battery for the iPhone 4 and 4s that is essentially a case with a solar panel attached to the back. Called Mobius, it helps when you're out for a day of traveling and need a quick and simple way to have a little bit extra juice, and you want to be ecofriendly about it. It's a solar panel, so it's slower: an hour in the direct sunlight gives you the energy for a couple short calls. But the energy is free wherever there's sunlight.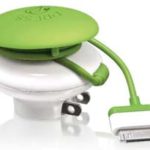 Bracketron Stone GreenZero Charger: A lot of energy gets used up today when devices are idle, slowly draining power. The GreenZero Charger is a USB charger that automatically shuts off when the device you're charging is full. It's small and plugs into any outlet.