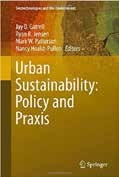 This book explores the environmental, economic, and socio-political dynamics of sustainability from a geographic perspective. The chapters unite the often disparate worlds of environment, economics, and politics by seeking to understand and visualize a range of sustainability practices on the ground and in place. In concert, the book provides an overview of a range of geotechnical applications associated with environmental change (water resources, land use & land cover change); as well as investigates more nuanced and novel examples of local economic development in cities.
The diverse collection maps local practices from urban farming to evolving and thriving industries such as metal scrapping and craft beer. Additionally, the book provides an integrated geo-technical framework for understanding and assessing ecosystem services, explores the deployment of unmanned systems to understand urban environmental change, interrogates the spatial politics of urban green movements, examines the implications of revised planning practices, and investigates environmental justice. The book will be of interest to researchers,
students, and anyone seeking to better understand sustainability at multiple scales in urban environments.