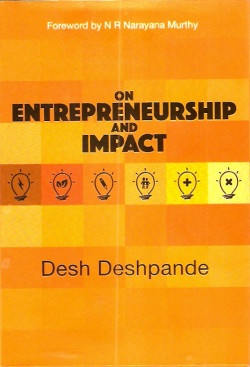 "Every article highlights a value, principle, mindset or an approach at the foundational level rather than providing a popular tip or a technique. The focus is on the long-term rather than gaining from a fleeting advantage." N R Narayana Murthy, Founder Infosys
There are an umpteen number of books by professors and entrepreneurs on entrepreneurship but the choice narrows down when one looks for books for entrepreneurs who want to make a social impact. This book by Desh Deshpande has come at a time when social entrepreneurship has become a mainstream idea, not a fringe as it was even five years ago.
And it's perhaps the first in the Indian context. This book should be a must read for anyone who wants to dabble even remotely in social entrepreneurship anywhere, particularly in India. There's a general perception that social entrepreneurship is not as difficult as entrepreneurship as we know it. Far from it! The challenges are more because here one's stakeholders are bigger in number and you cannot let them down. One may fail in normal entrepreneurship and move on, but here, one has to be not only smarter but more committed to a cause.
This book debunks many lazy assumptions and straight jacketing about the business of impact. No one would have done a better job than Desh because he has been a very successful serial entrepreneur in the US. He brings the hard core business experience and has been blending it with his new passion – creating an enabling ecosystem for social entrepreneurship to flourish. Desh set up the Hubli Sandbox nine years ago. He hails from Hubli and his father who is 91 now, continues to inspire him.
Don't be fooled by the small size of the book. It packs enough punch for you to go and have a blast at the market and the social space.
This book will also benefit entrepreneurs since Desh shares some of his significant high and low points in his career and how he managed them. It is almost his mini-autobiography. Desh has been running Hubli Development Dialogue for the last nine years. It is one of India's foremost two-day annual unconference for NGOs, philanthropists, funders and the rest of the ecosystem in the business of impact. He invites the best of Indian and global minds to enrich the discourse surrounding in social entrepreneurship.
Check it out at developmentdialogue.org
Also check out dozens of amazing firms that have emerged from here and the robust ecosystem he is trying to create. http://www.deshpandefoundation.org/