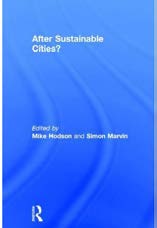 By Mike Hodson, Simon Marvin
Routledge, 2014
A sustainable city has been defined in many ways. Yet, the most common understanding is a vision of the city that is able to meet the needs of the present without compromising the ability of future generations to meet their own needs. Central to this vision are two ideas: cities should meet social needs, especially of the poor, and not exceed the ability of the global environment to meet needs.
After Sustainable Cities critically reviews what has happened to these priorities and asks whether these social commitments have been abandoned in a period of austerity governance and climate change and replaced by a darker and unfair city. This book provides a warning that a more technologically driven and narrowly constructed economic agenda is driving ecological policy and weakening previous commitment to social justice and equity.