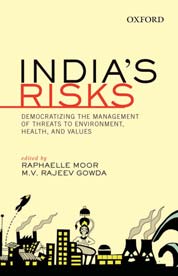 Edited by: Raphaelle Moor & M.V. Rajeev Gowda, Oxford University Press, June, 2014
A prospective superpower, India is still grappling with a host of risks that threaten to hamper its progress. These range from environmental threats caused by GM crops and pollution; dangers to health from HIV/AIDS and maternal mortality; safety concerns about natural hazards, nuclear power, and industrial disasters; and challenges to livelihoods and values.
The field of risk research, which has emerged over the last 40 years in the West, has been relatively unexplored in India. In an effort to bridge this gap, this volume brings together Indian and Western scholars and practitioners across the fi elds of psychology, anthropology, law, politics, sociology, public health, philosophy, science, and architecture, who offer insights on the theory of risk, lessons from the West, and the realities of risk in India. This book is a culmination of a study project run jointly by the Centre for Public Policy at the Indian Institute of Management Bangalore and the STEPS centre at the University of Sussex. All Royalities from the sale of this book will go directly to the Environment Support Group, an NGO based in Bangalore.