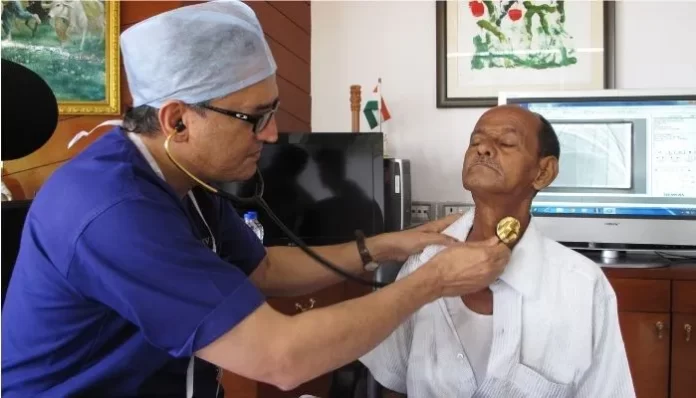 India needs healthcare reforms urgently if it wants the poor to get better access to it. It is easy and universal healthcare can be achieved in just five years with a few financial innovations. What are we waiting for? Excerpts of Dr. Shetty's talk on 'A Path to Transform Healthcare in India' at ICFAI's Leadership Conversation series recently.
Government funded universal healthcare not feasible for India
Rs. 10,000/- annual health insurance by 300 million middle class can transform India's healthcare
Through basic insurance healthcare modern healthcare can be accessed by all
Insurance, hospitals, patients need to trust each other for healthcare revolution
Tax free healthcare savings account can do wonders to a families' health security
In the 100th leadership conversation session titled "From Universal Healthcare to Universal Health Insurance" held on April 14, 2023, Dr. Devi Prasad Shetty, Chairman and Executive Director of Narayana Health, proposed a shift from universal healthcare to universal health insurance. The session, moderated by Prof. R Prasad, Director-Academic Wing, ICFAI Group, and Mr Sudhakar Rao, Director-Branding, ICFAI Group, provided a platform for a nuanced discussion on the healthcare challenges in India.
According to Dr Shetty, millions of Indian families are on the brink of financial ruin due to medical bills. India, as a nation, requires 65 million surgeries a year, but only 25 million are performed. This deficit of 40 million surgeries threatens the quality of life and survival of many Indians. The surgeries in question are not complex procedures, but essential ones such as caesarean sections for obstructed delivery, appendectomies, and surgeries for compound fractures.
Discussing the limitations of the existing healthcare system, Dr Shetty pointed out that "since independence, people in need have the right to get free access to healthcare with the taxpayer's money. But if you go deep down in order to understand or analyse, free universal healthcare to every citizen through taxpayer's money happened in very few countries successfully." He identified the traits common to these countries: a small population, high tax-to-GDP ratio, and considerable healthcare spending—factors that India currently lacks.
Dr. Shetty firmly believes in the potential of universal health insurance, stating "Most middle-class families in India are ready to pay at least the premium cost of a typical health insurance which cannot fund surgery without insurance but can avail healthcare insurance at minimal cost with no fuss." He emphasized the need for the three stakeholders in the healthcare industry – hospitals, insurance companies, and patients – to foster mutual trust.
Dr Shetty envisages a more inclusive health insurance model, stating "What I am saying is we need to come up with an affordable health insurance with a premium of 10,000 rupees per year which will cover primary, secondary, and tertiary healthcare." Theoretically, this would generate more funds than the current central government's healthcare budget and cater to a large segment of the population.
Looking ahead, Dr Shetty suggested the implementation of health savings accounts, a tax-free scheme for healthcare expenses. Such an initiative would provide a flexible route for the middle-class population to pay insurance premiums.
In Dr Shetty's vision, India has the potential to become a global leader in healthcare by dissociating healthcare from affluence. He confidently stated, "I believe that India can become the first country to dissociate healthcare from affluence and will prove to the world that the wealth of the nation has nothing to do with the quality of healthcare. It will not take a lifetime but only 5 years if implemented."
Dr Shetty's insightful leadership conversation session provided a fresh perspective on the healthcare challenges in India and a potential roadmap for transforming the current healthcare narrative. His advocacy for universal health insurance and health savings accounts could potentially shape the future of healthcare in India, ensuring that quality medical care is accessible and affordable for every citizen.