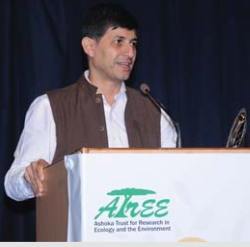 Dr. Navroz Dubash, senior fellow at the Centre for Policy Research, New Delhi, has bagged the TN Khoshoo Memorial Award for 2015. The award was given to him at a function organized by the Ashoka Trust for Research in Ecology and the Environment recently in Bengaluru. The TN Khoshoo Memorial Award is in memory of the world-renowned environmental scientist, Dr. Triloki Nath Khoshoo in recognition of the impact his work has had on India's climate policy.
Dr. Dubash has served on India's Expert Committee on Low Carbon Strategies for Inclusive Growth and other national committees on water and energy policy. He spoke about framing and thinking about climate change in ways that also brings into focus other environmental issues that the country faces. He also spoke about climate change as a development issue, which can potentially result in falling agricultural yields and increase in the incidence of extreme weather events, especially in India. However, he added that since this is an issue which has been primarily caused by developed countries, they have to take up a greater share of emission cuts.
The event also featured a video message by Union Minister of Environment Prakash Javadekar, who highlighted the concerns of developing countries in the context of the Bonn draft and laid emphasis on achieving a "fair, just and equitable agreement out of Paris that recognizes common but differentiated responsibility because of historical role." He also urged developed countries to free up the carbon space for the economic growth of developing countries.