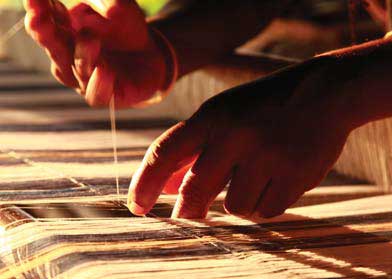 GoCoop, GoCoop.com, an online social marketplace that provides a global eCommerce platform to co-operative and community based weavers and artisans in rural India, has entered into an MoU with three major corporations NSFDC, NBCFDC, NSKFDC under ministry of social justice and empowerment, Govt. of India to provide an eCommerce platform for backward class and scheduled caste artisans. The objective of the GoCoop MoU is to provide benefi ciaries of the NSFDC, NBCFDC and NSKFDC a global marketing platform, training, infrastructural and fi eld-level services and support to help their artisans get market prices for their products and to scale up their business.
GoCoop currently supports over 50,000 weavers and artisans through 200 co-operatives and sells over 11,000 products. You can buy online, source your bulk purchases and collaborate with buyers and sellers. It is currently focusing on handloom, handicraft and khadi clusters.
Mr. Siva Devireddy, Founder, GoCoop. com says, "There is an urgent need to create better market access for our artisans and weavers and make the markets more equitable to producers. We are very excited to work with the Finance development corporations under the Ministry of Social Justice to promote their benefi ciaries through our global marketplace. With our unique eCommerce-based development model, we would not only be creating market access but would be working towards improving the product quality and effi ciency of the artisans."
GoCoop's unique development model is based on creating identity and awareness for artisans and hand-crafted products by listing them online. The skills and capacity of the weavers and artisan co-ops are developed through training and other capacity development initiatives for improving the products and preparing the artisans further for eCommerce.