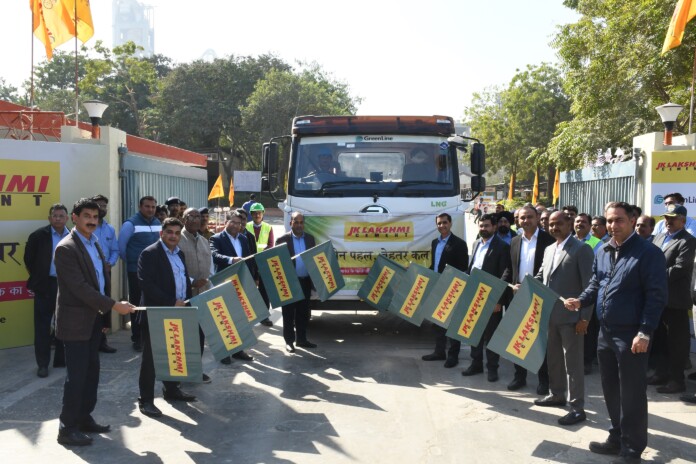 Blue Energy Motors flagged off India's first Liquified Natural Gas (LNG) fueled green trucks for J K Lakshmi Cement recently. The first fleet of trucks left its Sirohi plant in Rajasthan to its clinker grinding unit in Surat.
Anirudh Bhuwalka, Chief Executive Officer, Blue Energy Motors commented said "Our trucks have been designed and conceptualized, keeping in mind the Indian conditions and climate requirements. It's the best immediate solution to pollution caused by the heavy duty-vehicle sector.
Arun Shukla, President & Director, JK Lakshmi Cement Limited, said, "Our country is aiming to reduce the carbon intensity of the nation's economy by less than 45% by the end of the decade, and achieve net-zero carbon emissions by 2070. Deploying LNG trucks of Blue Energy Motors is our first step towards sustainable transportation as LNG is an excellent green alternative for fossil fuel. This initiative will act as a game-changer for the country's cement transportation industry and help facilitate the eventual transition towards a more circular economy."
Green trucks have been designed to deliver TCO with unmatched reliability and next generation telematics system for safe and comfortable long-haul drives. BE5528 uses FPT Industrial multipoint stoichiometric combustion engine to ensure best-in-class fuel consumption and lower noise than diesel engines. With 280hp power and 1000Nm torque, it is one of the most powerful natural gas trucks on the Indian market.
The BE5528 truck has the industry's first 990-lt fuel tank which provides the range of up to 1400 km in a single fill. Given this long range, issues pertaining to range anxiety are well taken care of and with the upcoming LNG dispensing network, sufficient coverage across key routes in the country will be available without need of frequent refilling.
The company has installed capacity to produce 10,000 trucks / annum which can be augmented further as the eco system mature and demand ramps up. It launched the first manufacturing plant at Chakan, Pune in September last year.
Blue Energy Motors, a zero-emission truck technology start up is disrupting the heavy-duty trucking industry by creating a clean alternative to decarbonize the environment by providing an immediate solution and breaking barriers of economic returns. The company's disruptive business model enables customers to introduce next-generation truck technology into their fleets enabling transitioning into green transportation solution. www.blueenergymotors.com)