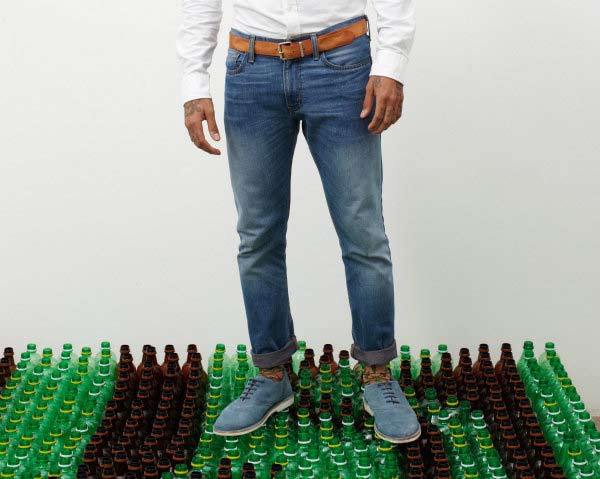 In an attempt to use recycled waste in clothing, the jean giant Levi Strauss & Co. has launched the new Waste-Less Jeans. Available in variants for men and women, the jeans claim to use as much as 20 percent of recyclable material, mainly bottles. So, as many as eight plastic bottles could go into the manufacturing of one pair, the advertisements proudly claim.
The process involves collecting green soda bottles, brown beer bottles and black plastic food trays. These are broken down into small pellets at the manufacturing unit and spun into polyester yarns. The yarn is then woven in with the fabric of the jeans. The result is a lightweight, thin pair in a shade slightly darker than other denims. In light, the jeans reveal the underlying shades of the color of the bottles and trays used in making them rather.
The company claims to have reused over three million bottles and trays in the production of these jeans so far. This is not the first amongst eco-fashion initiatives by the jean brand. Earlier, Levi's produced and publicized reduction of water usage in the manufacture of its garments through the Water-Less jeans. The company was able reduce its water footprint by as much as 96 percent in the production of one such pair according to Petcore Europe, a Belgium-based association that deals with PET container recycling.
The waste-less collection is intended to use up 3.5 million recycled bottles. The line comes in both skinny and straight fit options with a tag that says 'made of garbage'. The idea is to make clothing more sustainable and fashionable at the same time. The company is looking at other forms of sustainable clothing to add to their line of eco-fashion.
Besides using sustainable means themselves, Levi's also recently introduced A Care Tag that urges its customers to be eco-friendly. The tag gives out information on cleaning your pair efficiently while reducing environmental impact. They also suggest old jeans be given away for goodwill over being thrown after appropriate use.