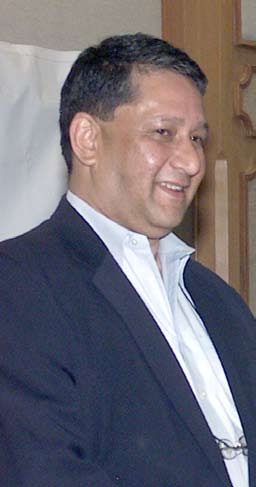 Ranjit Barthakur runs the Balipara Tract and Frontier Foundation in Guwahati. He released a thoughtful compilation titled Natureconomics: Nature and Economics Nurturing Interdependence. He runs a series of green initiatives through his Mumbai based company, Globally Managed Services.
Since he hails from Assam, Barthakur is concerned about the future of the North East, which he describes as "the last carbon sink". With his commitment to 'Natureconomics', a term that he has coined, he advocates that the proper value ought to be applied to natural resources.
Here's an excerpt of his brief chat with Benedict Paramanand
You spoke of Natureconomics in 2008. What has changed since then?
The concept of Nature and Economics is how we make it a combined delivery item because people need Nature and without Nature there is no Economics. So how do we say that the economic element is equal to that of Nature where as today Economics seems to be more valuable?
In order to do that we set up Naturenomics to examine elements of Nature that are conversion oriented or that get converted for value. For example, take land, energy, waste, water, air or a byproduct like carbon. The question is how you take all these elements, LEWAC as we call it, and give it a value which then if there is a depletion, the company gets a depletion mark and if it is positive, then they get a positive mark like water positive, waste positive.
Unless you value it you will not get a LEWAC. The reality is economists don't like to do this. Therefore the fish in the river has no value but when you put the fish in the market it has value. The wood in a plantation has no value, so any biodiversity in Arunachal has no value because it hasn't been put on the table; if it is furniture it has value.
So how do we bring about this dichotomous relationship to say as basic as fish or wood, we deliver a better proposition. So Naturenomics is trying to work out a valuation model on each one of these elements.
Is it different from what Adidas and Puma do?
Adidas and Puma have only touched the surface. It's different to the extent that if this is the value chain in Naturenomics, which is land, energy, waste, water. They are handling the elements of logistics, in their buying, procuring, and manufacturing. They haven't handled all of it, and it's just the beginning. At least they have started. Their cost to ecology doesn't give it weightage but at least they are starting to value it.
So yours is one step ahead?
I don't know if it is a step ahead, ours is still very utopian because the fact that they get valued is already calculating Nature because they have to buy leather, rubber etc all that is Nature. So when they say they are valuing Nature I don't know how that element actually translates. But in Naturenomics what we are trying to do is ask what is the true cost of depletion? If it is Nature negative how do you put value to water, waste etc.? Somewhere down the line, Nike shoes are thrown away, they don't put a value and that contributes to waste. What they are doing is making it biodegradable and accountable. That is not true because the aluminum they use is accountable, it depends on how far you want to take it. They have made a great beginning. Everything in the world including the services business is about Nature conversion. So everything we wear, buy, eat is about natural resource conversion. When people say that they are valuing Nature, I don't understand because they are already valuing and making money.
How advanced is it compared to the Circular Economy concept?
I don't think it is comparable because Natureconomics is still being conceptualized. We don't have a robust theory. Circular economy is more advanced, more definable, they have moved ahead. We don't have a value.
Who spearheaded this concept?
I founded it, I founded a company called NatureFirst, it got bought by Tata Consultancy.
What was the objective of NatureFirst?
Naturenomics was the concept, NatureFirst was the organization that helped deliver the concept, GEMS green ecologically managed services was organizing outsourcing ecological services.
Circular economy is very aligned with the concept of cradle to cradle. If you take 100 liters of water into a factory the water that comes out should be equal to and pure, you cannot waste water. It's very unnatural as the real world is different.
Sustainability consulting is still nascent; will it be a big opportunity for companies like TCS?
It's not just about consulting, it's about implementing.
We have Dow Jones index on sustainability and how do you think Indian companies should focus in a much more aggressive way? What's your view on the indexing part of sustainability? Is it adequate?
I don't understand it fully to be honest. I don't know if it has helped any company to be undervalued or overvalued, the Naturenomics index will do that.