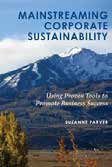 By Suzanne Farver, 2013
CreateSpace Independent Publishing Platform, 2013
Used as the centerpiece for a popular corporate sustainability class taught on campus and online at Harvard University, this book provides students and professionals alike with an overview of the most valuable management tools and resources. Through the examples of companies from around the world, you will learn about the various international standards and performance frameworks that can be adapted to your company. This book will help you to develop an understanding of the pitfalls and challenges of this ever-changing field. You will become adept at asking the right questions and speaking the language of sustainability professionals so that you too can become a leader in this important business arena.