The Toilet Man
India has had zealous men dedicating their lives to providing one essential service to the common man all their lives. Verghese Kurien was India's milk man;                 E Sreedharan the metro man; O P Munjal the cycle man.     S Damodaran may well be India's toilet man if he accomplishes the ambitious 10 million toilet goal he has set for himself in the next 5 years. His NGO Gramalaya has already constructed 100,000 toilets and helped declare several slums open defecation free. Going by how critical factors are panning out, he is likely to achieve his goal
By Benedict Paramanand
It's a shame that fifty percent of Indians don't have access to clean toilets even when NGOs like Gramalaya has been in the sanitation sector for more than 25 years. The scale of the problem is humongous and the NGO has been quietly working in a few towns in Tamil Nadu so far. It was instrumental in declaring Thandavampatti village in Tiruchirappalli District as India's first open defecation (OD) free village in 2003. This year could be Damodaran's tipping point because the entire ecosystem that goes into building community sanitation infrastructure, which he has been working on, is falling into place nicely.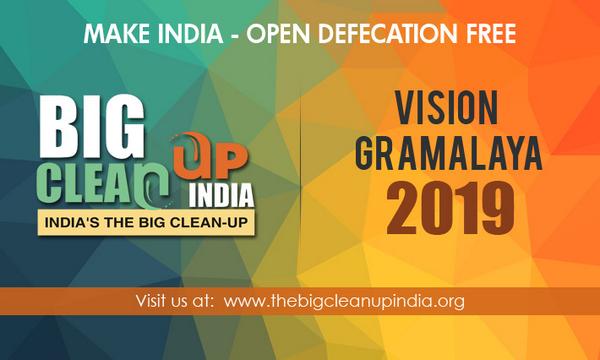 His Centre for Toilet Technology and Training has come up with smart, efficient and affordable toilets. (Pl see box). He is able to reach this far because he has worked tirelessly with several governmental and donor agencies to build a sanitation ecosystem. He works with the National Institute of Water and Sanitation, Government of India's sponsored CRSP, TSC and Nirmal Bharath Abhiyan programs as well.
Gramalaya promoted more than 1,00,000 toilets with various donor organizations like WaterAid, Water.org, Unicef and Arghyam in Tamil Nadu. It also introduced the concept of microfinance for sanitation for the first time in India and successfully scaled up microfinance for toilet constructions through the Guardian MFI (Micro financial institution).
Gramalaya introduced the concept of Community Managed Pay and Use toilet systems for the first time in India which was replicated in other parts of India by organizations such as Sulabh. It also designed the child friendly toilet (CFT) models for the use of slum children, school children in rural areas along with Anganwadi toilet models.
The Modi government's Swachh Bharat Mission Program aims at reaching 111 million households with safe sanitation by 2019. Gramalaya is aligning its goals and expects to contribute at least 10% of the national target i.e. 10 million households with sanitation facilities.
Damodaran is different from the other famous men in one – he also writes songs to promote hygiene.(http://www.gramalaya.in/pdf/Songs%20English%20and%20Tamil%202.pdf). He knows that poor sanitation is not only because people cannot afford it, it's also a habit. He is out to change that through his songs and books.
India's Human Development Index (HDI) is one of the worst in the world at around 140. Only now there is consensus that unless India goes into hyper action mode to address basic sanitation of communities, much of its investments in primary education and health is bound to fail.
Pay & Use Economics
Gramalaya started its urban intervention program in 2000 with financial assistance from WaterAid, UK and collaboration with Tiruchirappalli City Corporation. There were 7 community toilets built by Gramalaya with WaterAid grant fund apart from individual household latrines connected with UGDs in the 7 project slums.
The Kamala Nehru Nagar Integrated Sanitary Complex is being maintained by the women Self-Help Groups. Gramalaya formed 15 women SHGs in the slum. The integrated sanitary complex has 16 toilet seats for ladies and 20 toilet seats for men and a few child friendly toilets for children. Of these 13 are being used under pay and use toilet system by the women SHGs through the SHE Teams.
They earn an average monthly income of Rs.15,000/- from the user fee. One cleaner for cleaning of the toilet complexes every day is paid a salary of Rs.6,000/- per month. The toilet complex is being maintained on shift basis where two women look after the toilets from the SHGs on rotational basis. They are paid Rs.50 per shift for issuing tokens for toilet usage to the users and collecting the user fees from the users. After meeting the operational costs every month, the remaining amount is being deposited in the SHE Team bank account which is jointly operated in a nationalized bank.
They are also selling soaps, shampoo and other hygiene goods in the toilet complex which is fetching additional income for the families. They have engaged separate persons for garbage collection in the slum for which SHE Team is paying the fees. The toilet complex is successfully maintained by the SHE Teams since 2001 onwards wherein the minor repair and renovation costs are met by the SHE Team and the major repairs are attended by the City Corporation.
The slum was declared as 100% open defecation free in 2005 by the City Corporation with the help of Gramalaya. Gramalaya got the National Urban Water Award in the year 2010 as runner. Since then, WAVE –Women's Action for Village Empowerment is working with the slums in Tiruchirappalli City Corporation and worked as the federation for women in the slums for meeting their water and sanitation needs on a self-sustainable basis.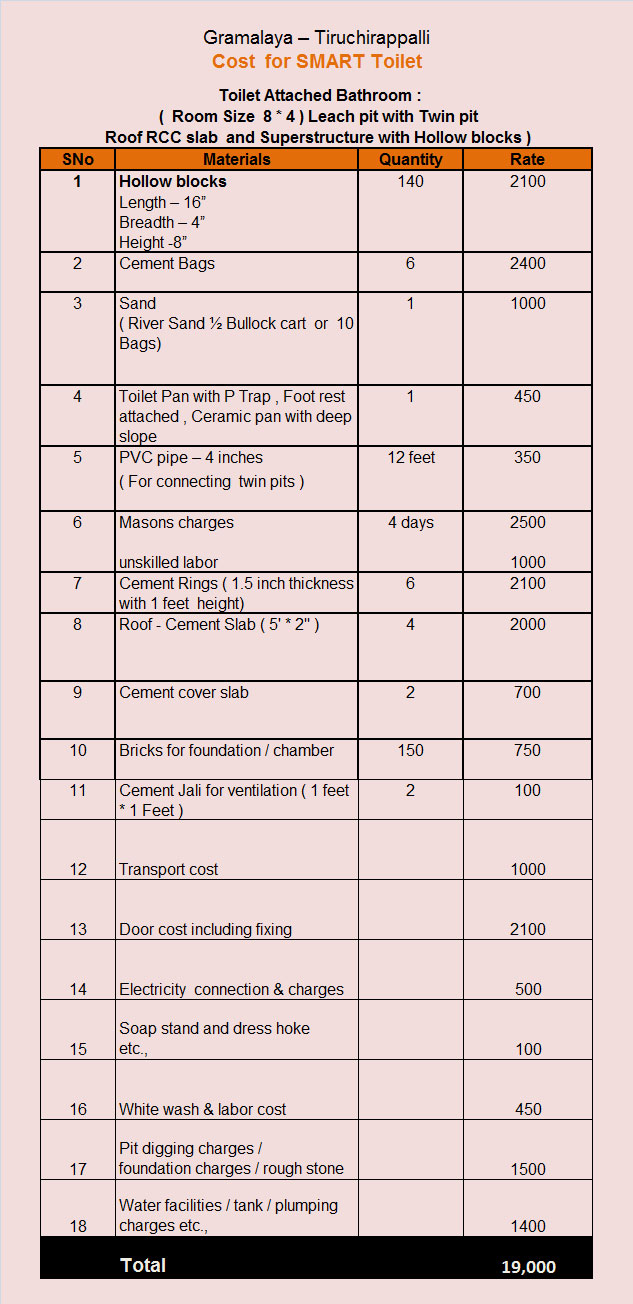 http://www.waterawards.in/2010-winner-profile-gramalaya.php
For more details : www.gramalaya.in