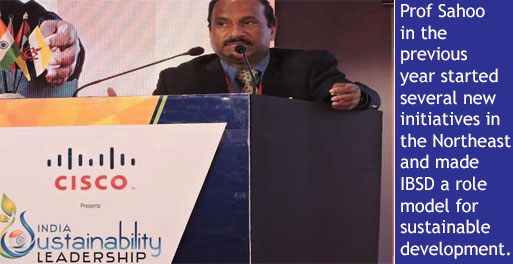 Prof. Dinabandhu Sahoo, Director, Institute of Bioresources and Sustainable Development (IBSD) received the prestigious India's Award for Sustainability Leadership of the year 2015. He was chosen amongst the 50 most influential sustainability leaders for his outstanding contribution in the field of Bio-resources and Sustainable Development. The main objective of the award was to achieve sustainable development goals in India and turn them into reality.
The other organizations who received the award were Royal Bank of Scotland, Tata Motors, Dr. Reddy's Laboratory, Indian Institute of Corporate Affairs etc.
The award is part of the initiative launched by the Chief Minister of Maharashtra, Devendra Fadnavis, in 2015. It was presented by world's IT giant CISCO.
While receiving the award, Prof. Sahoo mentioned that Northeast of India is a hotspot for unique biodiversity and has lot of scope for sustainable development. He further said that the region has a very sensitive and fragile ecosystem but full of natural resources which is blended with unique cultures. He urged the industry leaders to explore the possibilities of setting an infrastructure and bio-resources based industries so that it can create large number of jobs in the region. Prof. Sahoo urged the people to invest substantially in the Northeast as part of their corporate social responsibility so that sustainable development can take place in a fast track manner.