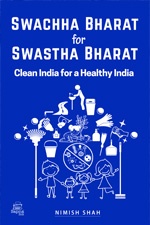 Mahatma Gandhi famously said "Sanitation is more important than freedom." Yet, 70 years after Independence, half of Indians still defecate in the open. Public investment in healthcare and primary education has been the least and the results are there out in the open. The current movement is in the right direction, but needs greater execution excellence for it to succeed. For examples, building toilets is not a big deal, a system of maintaining it is more challenging.
The book rightly links sanitation with healthcare. If sanitation is improved significantly, healthcare costs would go down sharply. The author brings out various linkages quite well. Citizens need to apply intense pressure on public policy makers and implementers about this. Otherwise, India's human development index will continue to linger around 130 for ever.
The author is a scientist with expertise across Microbiology, Water, Sanitation, & Hygiene and food safety.