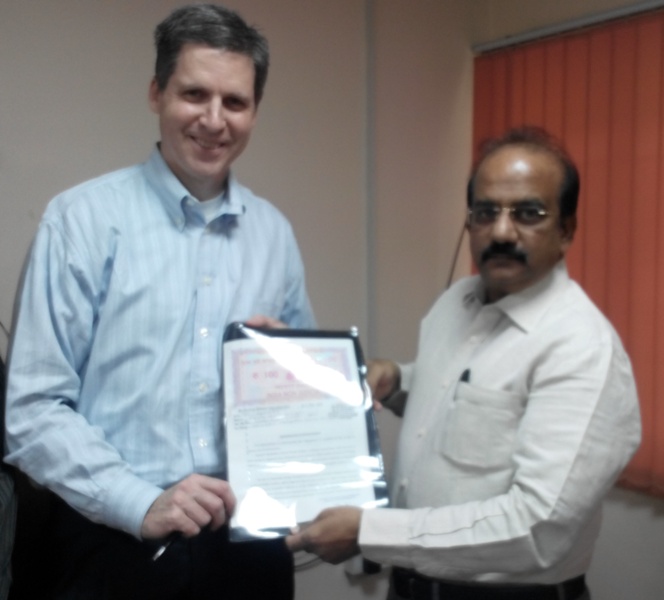 Bangalore-based enterprise VayuGrid announced that it has entered into an MOU with New Renewable Energy Development Corporation of (NREDCAP) of the State of Andhra Pradesh to develop Panchayat level Bio Energy Zones ( BEZs) for green power generation. The MOU also includes support infrastructure facilities like the bio-energy green coal plantation supply chain and the bio fuel processing infrastructure necessary to meet the low cost production of clean energy. Each of these panchayat level BEZs established on wastelands are optimized to generate 10 Mw and 14 million litres of biodiesel, along with nearly 1,400 farm labor jobs through the 60-year productive life of the BEZ.
Mr. Kamalakar Babu, the CMD of NREDCAP said, "We are taking our collective learning to do bio-energy in a better and more effective manner." The state has a total of over 60 lakh acres of wastelands spread over 7 districts. Of these, the state is looking at districts such as Cuddappah, Kurnool, Chittoor and Anantpur as initial districts to establish such BEZs. "The goal of the MoU is to replicate the Panchayat level BEZ of 10 MW to reach 1,500 MW capacity over the next 10 years to increase rural energy access, create jobs, and make wastelands a productive asset for the state" he further stated.
Each wasteland based BEZ will attract investment of USD 20 million, which will be brought in by VayuGrid along with its partners. Additionally, each cluster becomes a huge carbon sink, sequestering nearly 30,000 tons of carbon annually, thus making each BEZ eligible for Carbon Credit and become a significant player in the Cap & Trade scheme, leading the pollution regulation market even while the State aims for fast and speedier economic growth.
"We are pleased to be recognized as the leading bio-energy solution to be deployed across the state by Andhra Pradesh, which is reputed for its clean energy portfolio," said Mr. Doug Peterson, CEO of VayuGrid. He went on to add that VayuGrid's patent pending elite Pongamia sapling VayuSap™ has been developed over 25 years to be a disruptive platform for bio-energy based on optimal yields in the greatest diversity of environments.