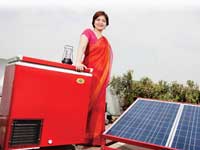 Coca-cola has started distributing its solar-powered "eKOCool" cooler developed specifically for retailers in rural areas. Rooftop solar panels are linked to the chest-style coolers installed inside the store below. The sustainable innovation helps shopkeepers sell ice-cold drinks – a bit of a novelty in "off-the-grid" communities – without ice or electricity.
The "eKOCool" coolers also feature ports for charging lanterns and mobile phones. Villagers walk in to charge their phones and, while waiting, end up spending more. The lucky shop keeps keep their shops open even after dark.
The "eKOCool" project is part of Coca-Cola's 5by20 initiative to empower 5 million women entrepreneurs across its global value chain by 2020.
From Concept to Cooler
The "eKOCool" project was conceived several years ago when Atul Singh, president of Coca-Cola India, discovered that rural outlets in Uttar Pradesh and other remote areas were using conventional ice chests – with very little ice – to stock and sell beverages. The Coca-Cola India technical team partnered with Mumbai-based Western Refrigeration to develop the prototype before launching a series of pilot tests. Sales at participating retailers have increased significantly since installing the units.
More than 1,000 solar coolers have been installed in India, to date, boosting Coke's presence considerably in rural areas. "These coolers are bringing first-time customers who never tasted our beverages before," says Asim Parekh, vice president, Technical, Coca-Cola India, who notes that markets such as South Africa and Turkey are adapting and testing the units. "The model is helping create a market in areas where Coke has not been present at all."
http://www.coca-colacompany.com/stories/coca-cola-india-develops-solar-powered-coolers-for-rural-areas