Agritech companies that prioritize a farmer-first approach will lead the way towards a new era of super-efficient and sustainable farming.
As the world's population continues to grow, the agriculture industry is facing an increasingly challenging task of meeting the growing demand for food. In order to address the global food crisis, there needs to be a significant increase in the global food supply by 2050. Despite a 50% increase in crop production rates over the last decade, there are still significant gaps between demand and supply. This is why sustainable food production is more important now than ever before, and it can only be achieved through the adoption of disruptive technologies, which historically have been slow to emerge, particularly in India.
However, the trend is changing, and agritech start-ups are leading the way in developing smarter and more sustainable farming practices. This is a critical step in achieving the 17 Sustainable Development Goals (SDGs) outlined in the 2030 Agenda. To achieve these goals, there must be sufficient investment in technology that can adapt to environmental and market factors, thereby increasing agricultural productivity sustainably. Today, nearly 97% of disruptive, solution-based deep tech startups are aligned with one or more sustainable goals. The good news is that many agricultural processes can be mechanized to improve efficiency and sustainability, using deep-tech solutions.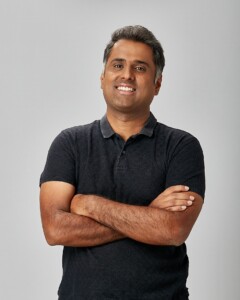 A good example of cutting-edge technology in action is the implementation of AI-powered robots in sustainable agriculture. These AgRobots possess the remarkable ability to execute agricultural tasks with unparalleled efficiency, precision, and effectiveness. The application of this scientific accuracy in farming can have a substantial impact on fostering sustainability. For instance, consider the critical agricultural task of spraying. Traditionally, farmers depend on blanket spraying in which chemicals are discriminately sprayed on the entire farm. This leads to wastage of a significant amount of water and chemicals, in addition to the negative impact on the environment and groundwater due to unnecessary spraying.
However, an AI-powered smart spray robots equipped with computer vision, can selectively target spray only the plants with chemicals, sparing the soil from unwanted chemical exposure. This can reduce the amount of chemical input costs for farmers and preserving the nutritional value of their soil.
Spot spraying is undeniably an excellent example of how deep tech is propelling sustainable agriculture forward. However, it is not the only case. Weeding is another critical yet laborious process in agriculture. AI-assisted technology can target and perform weeding on different terrains with real-time assistance, which can function independently and overnight, saving farm workers time and effort. This level of plant care produces healthier crops with cost efficiency, lesser chemicals, and less water.
Other key areas where AI AgRobots have penetrated the market include monitoring crop health, using predictive analytics to customize crop fertility plans, automated harvesting, soil, and irrigation management, among others. These innovations can cover multiple pain points, including labour shortages, energy consumption concerns, unpredictable weather and soil conditions, burdensome production costs, limited fertile land, resource insufficiency, growing demand for personalized niche products, and various other supply chain irregularities.
The potential for AI in agriculture is boundless, as the technology continues to store and improve upon data. Given the current state of the planet, a shift towards a non-destructive, dependable, and sustainable means of sourcing food is imperative Deep-tech has the potential to transform the agriculture industry and usher in a long and sustainable growth era.
Thanks to breakthrough innovations in AI, the computing power of robots has become more robust, allowing for the development of portable and dependable models. As software intelligence continues to advance, hardware is becoming increasingly affordable, creating a winning combination for agritech to scale.
In 2023, agritech is poised to make significant strides, as the sector has matured to a point where it is resolving issues faced by farmers on the ground level. Farmers are beginning to trust and have realistic expectations about agritech, seeking technology that can deliver reliable results, withstand the rigors of field operations, and is easily accessible.