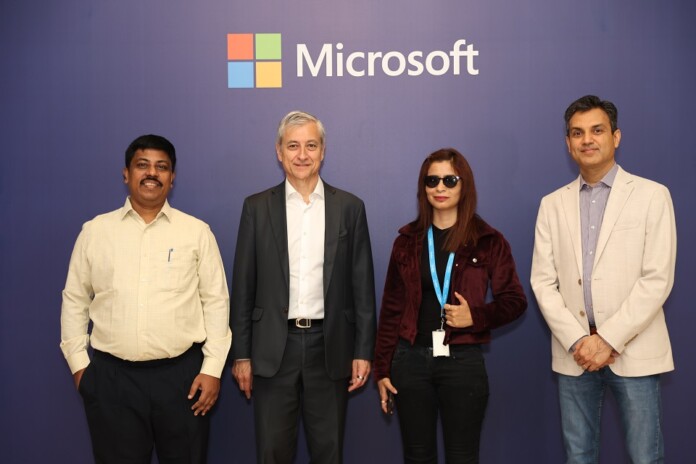 A four-member team from Wipro has won the 2023 Microsoft Pledge to Progress: Sustainability Hackathon for building climate change resilience for people with disabilities. The hackathon was meant to incubate ideas, build innovative solutions and shape India's sustainable future leveraging the power of technology.
The hackathon is a platform for organizations and individuals to develop solutions that can help reduce carbon emissions, save water, manage waste, create green software. The solutions are built on Microsoft Cloud for Sustainability platform.
The hackathon that kicked off in March 2023 received over 95 entries from companies including Infosys, Deloitte, UST Global, TCS, Wipro, Oracle, FIS Global, Tech M, Cast Software, Capgemini, ITC Infotech, across the two themes of "industry specific solutions" and "green software development."
Inspire, the winning team from Wipro, built a prototype that can help people with disabilities play a stronger role in building climate change resilience and adopt sustainable practices. By integrating accessibility features, the solution enables people who are blind or have low vision to not just read and interact with reports on Microsoft Sustainability Manager but also build apps on the extensible solution.
The solution offers a virtual advisor based on Azure OpenAI Service for Corporate Sustainability Reporting Directive and leverages the Microsoft Planetary Computer for satellite AI-based carbon credits and water sustainability. To address the tech challenges in Scope 3 value chain accountability, the solution employs Microsoft Fabric to bring in carbon footprint data and innovates with Pathfiner PACT, which is currently previewed in Microsoft Sustainability Manager.
Apart from Wipro, three other teams received special mention for their innovation:
Bring Life to Lakes by Sharp Software Development: Centralized solution integrated with Microsoft Sustainability Manager for measuring the quality of water and monitoring garbage for apartment STPs and lakes.
Team Scintilla by Pratishri IT Solutions: A mobile application platform that reduces food waste, feeds the needy, and promotes sustainability.
Mother Nature Earth by Tata Consultancy Services: Solar energy prediction and management solution to estimate energy availability.
The winning team will gain access to expert mentorship from industry leaders, tap into Microsoft's extensive network of partners and customers, and receive resources to further refine and develop their solutions.