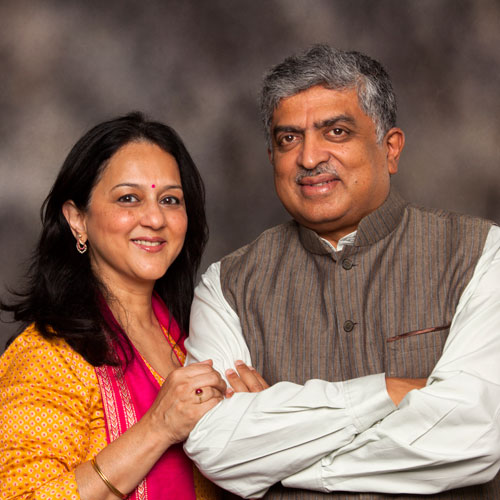 Nandan Nilekani and Rohini Nilekani have had splendid individual careers in the last two decades. With the launch of their audacious societal platform they have now pooled their strengths to make a global impact jointly.
Nandan has brought in his big systems thinking and architecture design and Rohini has brought in her immense civil society solutions-driven activism. At the 11th Hubballi Development Dialogue early February, they articulated their vision and what their platform could achieve in solving pressing problems facing the world, particularly the education sector in India.
The platform could emerge as the MOOC (massive open online course) for 200 million Indian primary school students. Already Maharashtra, Tamil Nadu, Andhra and Rajasthan have tied up to digitize their text books using this platform. Soon, the text books will have QR codes and students could be able to get on to the information highway easily. However, this may take a while since bandwidth is still an issue in most parts of the country.
The societal platform, promoted by their EkStep Foundation, is essentially an open source digital infrastructure on which anyone can build their platforms and deliver services globally. Already, a firm in Mexico has tied up to deliver telemedicine services. And the Shibulal Foundation is launching its student leadership platform on it.
Nandan said the platform is ready for mid-level services platform but the more challenging solutions to large-scale education and health solutions services will take a while.
The only way to work on finding impactful solutions today is to bring Samaj (society), Sarkar (government) and Bazaar (market) under one platform. Having worked with the government to launch India's most ambitious biometric unique identity solution – Adhaar – he shared a lesson or two on the secrets of working with the government.
He said: "The government is a great amplifier. If you can contribute to the design and architecture of the solution early in its life cycle, amplification is very powerful. If design is well thought through, amplification becomes that much easier."