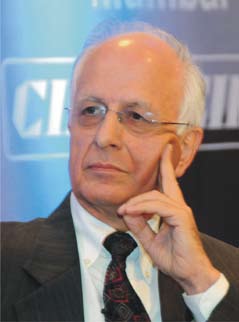 Arun Maira, Member of the Planning Commission, on absolutely key questions India has to answer
I came back to India after 10 years, 1989 to 2000. We couldn't get a place to live in Bombay and so we were staying in the Taj Mahal hotel for many months. Vindy Banga who had come back with his wife after many years to be the chairman of HUL, was also staying there, we had never met before. We got to know each other and in one conversation we asked ourselves what had we noticed that was different in India for the 10 years we were away. We both spontaneously mentioned the same two things. We had lived in the Taj and been to the Taj 10 years before in the 80s and 70s. We were now seeing young Guajarati girls in miniskirts dropped off by nice big cars and this never used to be so, we never had so much show off. Grand dresses and big cars that was not what you showed off when we were young. We both noticed the difference in values.
The second was the knocking on the window. When we were here earlier in the 80s there were beggars. Because in those 10 years the cars had become air conditioned, you could ignore the poverty around. So we saw signs of wealth and ignoring poverty. Two years after that I wrote a book called Remaking India, one country, one Destiny; it is a heavy intellectual subject, laden with heart and values.
To make it little lighter I thought I will ask R.K. Laxman if I could use some of his cartoons to illustrate various things in the book. One of the cartoons then in 2002, aam aadmi along with several villagers are standing in front of a politician who has come for an election campaign and he is saying to them very angrily when we have given you cell phones why do you keep asking for drinking water. It is still the story of our times, we are still saying look how much we progressed we have got 900 million cell phones, see how much we progressed. We have given them the ability to talk to each other but they are still asking for drinking water.
Who shall lead?
Philanthropy is close to charity, it's about money that you have to address the needs of the others. Philanthropy and charity are driven by similar emotion. How do you get the money to do that, business can generate a lot of money. The question is what means do you use to raise that money. If you run the business with the idea that lets find out things that people need and are not getting and let me find a way to give them what they need, that's how you design your business.
People crave for hard drugs and I will find ways to get them that and in that process I make a lot of money. That's a smart businessman, found a way to make large sums of money, found a way to help people out. Then I feel like doing charity so I set up a hospital, rehabilitating drug addicts. The point is not philanthropy; the point is how you made the money. Business responsibility is an exercise in responsible citizenship. Corporate governance is how you should be accountable and transparent. Responsibility towards customers, suppliers, community is paramount. All these are part of your value chain. If you are going to have a short term attitude towards your employees or customers, you may be profitable but the system will bite back. This is about internalities of your institution. Externalities like the environment, effect that we are having, you can make lot more profit and pay less attention to the environment, your share holders may be very happy.
Lack of respect for communities, you can make a case for economic advantage if you could ignore these externalities. But then it's been pointed out that the license to operate comes from these externalities. But people are standing against some corporations and are saying we will not let you do it. So if we were to pay attention to these externalities, banks are saying we will not give you loans if you don't pay attention to externalities. The idea of risk is therefore introduced, there is a risk in effecting these externalities, there is a risk, may be it might not reduce your immediate profits but might prevent you to grow bigger in the longer run. So risk management is tied to business responsibility.
Who is responsible for good institutions in the country?
The most difficult thing is: 'who is responsible for the quality of the institutions by which we are governed'. Business needs these institutions to ensure stability in the government but business can also destroy these institutions by grabbing things out of them which it should not do. But thinking about fiduciary responsibility it's my job to do those smart things that will make the most for my share holders. If I infect and corrupt the business institutions I have done more for my share holders by Milton Freidman's definition. But this becomes insidious, when I corrupt and get away and the share holders of the other institutions say you are not so smart.
What should be my role as a business leader, as a leading citizen of society? Something's cannot be gauged by the utilitarian value. They have to be gauged by their ethical, moral value and so far the idea about business responsibility, the case has been sold, including by Michael Porter, on the basis that it can produce more value in your business.
Value is measurable but values aren't
We want to be good human beings; we want to be a happy, caring and a compassionate society. We will as leaders of the institutions ensure that our institutions are run by is what's going to make the difference. By living by these values we can also increase the value but that's not the reason why I am going to do it. I get worried sometimes that people are waiting for a proof that you make money for me and then I will do it. I will do it even if it doesn't make money for me because it's the right thing to do.
I have written a book called Redesigning the Airplane While Flying; it's taken me 20 years to write it. We have to make sure that our institution survives and progresses faster than others, it's about flying the plane but we want to re-design it. It's a risky thing because if I were to re –design it and it stops flying then I am not being responsible. But I have values that I want to live by and I want to design this plane to be a very different plane. How does one do this? What are the challenges?
Leadership is about taking the first steps towards that you deeply care about and in ways that you don't cause harm to anybody else. You will take the risk to do that first. It's a movement of leaders it's not about a single leader.