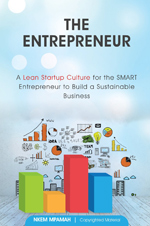 Recent Study by Harvard Business School shows that 75 percent of new businesses fail, and a great number of new products are rejected. The biggest question in the minds of most people is: "Why do new businesses or products fail?"
Truth is that new businesses fail, not because founders do not build exactly what they wanted, but because they waste too much time, money and effort in planning and building something that nobody wants to buy. When it comes to starting a business, everyone seems to follow one traditional pattern: find an idea; write a business plan, pitch to investors, built what you want, and sell to the market. For many years entrepreneurs and developers have followed this faulty pattern to build what they thought customers liked; only to realize after trying too hard to sell without success that nobody actually wanted what they built.
But what if entrepreneurs were SMART enough to engage prospective customers early in product design stage to discover what they wanted? What if they had gone out of the building to understand customer's pains and build sufficient features to resolve them instead of relying on untested business plan assumptions?
The Entrepreneur you are holding in your hand is the first part in the series of smart habits, behaviours, proven tools, concepts and strategies which Nkem Mpamah refer to as Lean Culture. The book is carefully written to raise the odds of success of startup founders, entrepreneurs, CEOs, small business owners, product developers, and programmers who are at various stages of starting and growing a business.