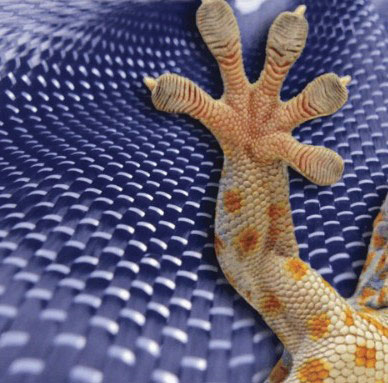 NASA, USAID, Nike and the U.S. State Department are participating in an international accelerator program for social good. The program is dedicated to shifting the environmental, economic and social impact of manufacturing through the year 2020 – cleaning up products we use every day, and introducing new composites to take the place of more expensive and less ecologically sensitive materials.
QMilk
Turns spoiled milk into bio-textile fabric that competes with cotton. The German company has started manufacturing prototypes for new antimicrobial, flame-resistant fibers made out of milk. The super soft fiber is 100% biodegradable, created only with renewable resources, produces zero waste and can be used to make clothing and home textiles. You can even eat the fiber, although it doesn't taste very good.
Geckskin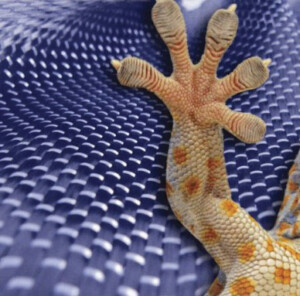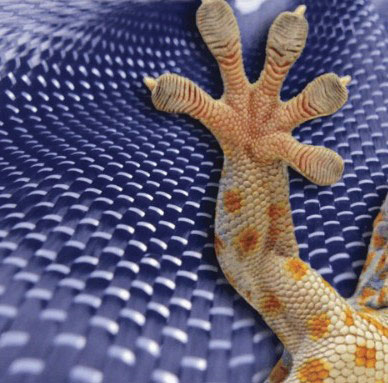 Adhesives inspired by the footpads of lizards, but without the residue. The Boston-based startup has designed the product to attach and release from surfaces repeatedly, without losing any of its adhesive properties. Think of it as a very powerful, velcro-like Scotch tape that never loses itsstrength. Potential applications include the home appliance sector and the military. Geckskin is still in its early-stages, several years away from putting anything out on the market.
Barktex
Transforming tree bark into leather-like materials, this agroforestry company is the brainchild of a husband and wife team looking to scale their business. The process involves stripping the bark off of trees, soaking those strips in water and then, through a composite process, transforming the strips into a material that doubles as leather or upholstery. The project is designed to be low-energy compliant, ecologically safe and provides jobs for hundreds of farmers in Uganda. The goal is to take this model to other parts of Africa and the developing world.
Blue Flower
A textile initiative aimed at supporting and empowering at-risk women and reducing the environmental impact of manufacturing. The company's founder, fashion designer Eileen Fisher, wants to set up sustainable value chains across the world. The initiative is designed to help poor communities develop low-impact bio-fibers sourced from second-hand clothing, replacing viscose, an artificial textile treated with toxic chemicals.
Ambercycle
Harnesses engineered enzymes to degrade plastic bottles, such as soda bottles, making plastic recycling both profitable and sustainable. The system lowers the cost of recycling and uses organic processes with no carbon footprint. This also allows producers to re-use plastics and remove them from landfills.
Artificial Bee Silk
Bio-synthetic silk produced through the fermentation of honey bee cocoon silk. The process, created by Australia's national science agency, CSIRO, uses genetically engineered bacteria to reproduce highly-flexible "webs," which can be used for weaving and knitting, or formed into sponges, transparent films or nanofibers.
Benign by Design
Uses data collection and analysis to understand the impact of textiles. The Benign concept is intended to show businesses exactly how textile wear leads to fiber pollution, and offer solutions for controlling emissions. Benign has created a trade-off analysis system that scientifically selects the most cost-effective material with the smallest eco-impact. Dr. Mark Anthony Browne, who came up with the idea as a University of California post-doctoral fellow, says his program "will lead to low-cost effective fabrics that emit fewer and less toxic fibers…throughout their life cycle."
Ecovative
Completely biodegradable packing and insulation using mushroom materials. The product is designed to serve as a replacement for polystyrene, a synthetic polymer used to produce environmentally unfriendly products such as styrofoam cups and packing material. Ecovative materials "can be composted in low temperature home compost piles, and they will break down naturally," explains design director Sam Harrington. Other uses for the material extend to sandals, surfboards and insulation.
CRAiLAR
Making flax competitive in cost and comfort with cotton, Crailer is publicly traded on the Canadian stock market. In addition to its wide availability around the world, flax also uses far less water, pesticides and land mass than cotton, resulting in lower emissions. CRAiLAR's process uses 97% less of the life-cycle water needed to produce a kilogram of cotton. The final product is a soft, natural fiber that is nearly indistinguishable from cotton, without the high price.
Biocouture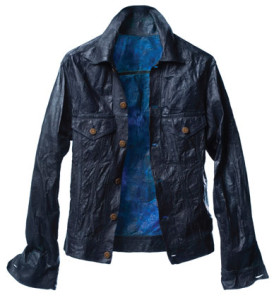 Creates sustainable material from microbes, transforming them into haute couture. The concept was created by fashion designer Suzanne Lee, who envisions microbial cellulose as the catalyst for her innovative approach. Microbial cellulose can be grown in a bucket and used to create biodegradable home wares as well as fashion accessories. And, in keeping with her DIY philosophy, Lee also plans to use Biocouture to share recipes and educational tools.
Source: http://mashable.com/2013/10/06/sustainablelaunch- forum/