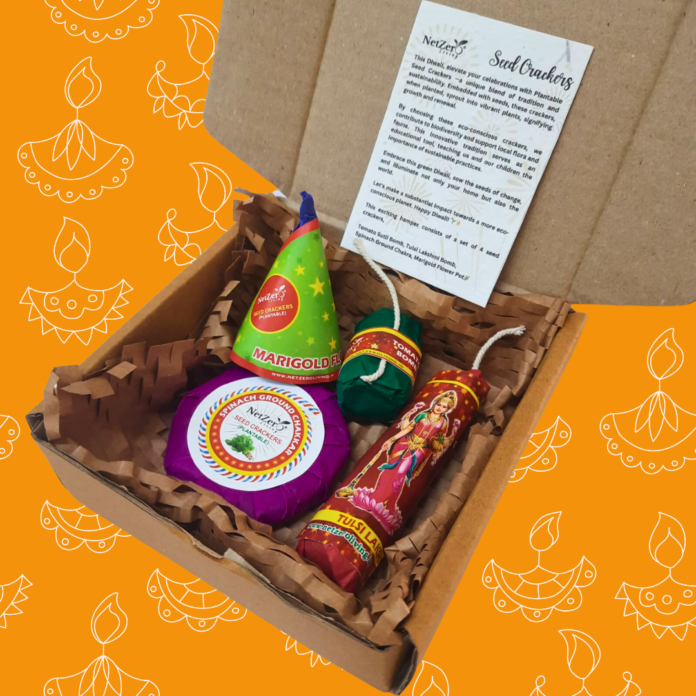 Diwalis are getting greener every year. This year's highlight is "Plantable Seed Crackers" by Mitesh and Esha Thakkar, founder couple of NetZero Living.
NetZero Living is a Salem-based company, promoting a zero-waste and sustainable lifestyle. Founded on the belief that ancient Indian methods of living are inherently eco-friendly, NetZero Living offers a wide range of products and services designed to help people reduce their environmental impact.
The plantable Seed crackers will change the way we celebrate, offering a unique blend of tradition and sustainability. It symbolizes a conscious effort to minimise waste and reduce carbon footprint. These crackers are embedded with seeds. When planted they grow into vibrant plants, signifying growth and renewal.
The product is meticulously crafted with a blend of compost, coco peat, and seeds, resulting in a product with enhanced nutrient content and a significantly higher success rate for plant growth.
Mitesh and Esha's journey began with a gradual shift towards replacing basic essentials with naturally sourced alternatives and committing to making many of these products themselves. Encouraged by the positive impact they were making in their own lives and the growing interest from their loved ones, the couple felt compelled to share their experiences and insights with a wider audience, thus the company they started.
The founders of the company are actively engaged in sourcing seeds and other raw materials from local vendors, a practice that not only supports these vendors but also enriches the local economy. As the product has recently hit the market, they are eagerly awaiting valuable feedback from consumers to further refine and enhance their offerings.
The seeds in these crackers are chosen to support local flora and fauna. They contribute to the restoration of natural habitats, attracting pollinators and other wildlife, thus promoting biodiversity.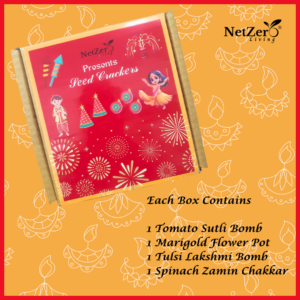 They present an excellent opportunity to educate and engage children and adults alike about the importance of sustainable practices and the impact on the environment.
As of now, a collection of 4 crackers is priced at INR 420 which comes in the form of a gift hamper.
Plantable Seed Crackers fuse tradition with innovation, illustrating that ancient customs can be adapted to align with contemporary environmental values.
https://www.netzeroliving.in/product-page/seed-crackers-gift-box