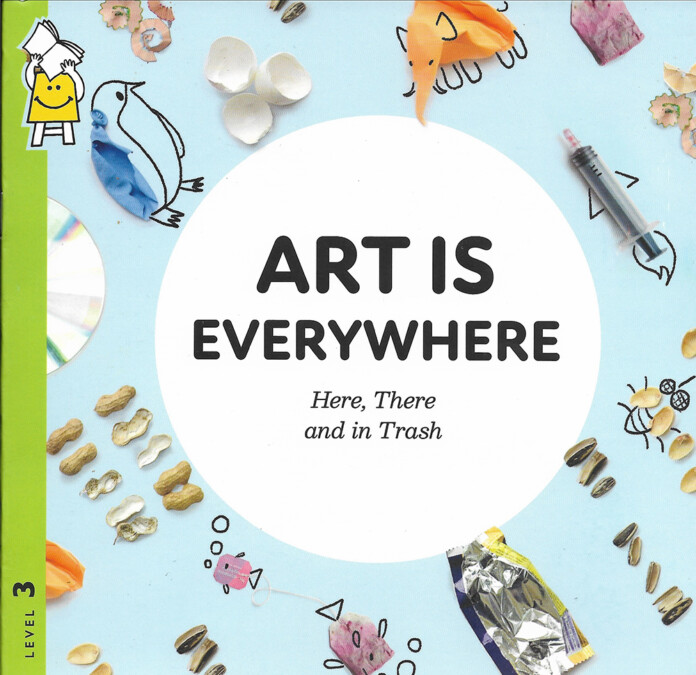 By Rati Girish
Art Is Everywhere – Here, there and in Trash is part of a series of delightful picture books by Pratham based on the premise that art can be found all around us, if we only knew where and how to look. Written by the well-known children's writers Aparna Kapur and Bijal Vachharajani with artwork by the illustrious Priya Kurian, Adrija Ghosh, Canato Jimo and Sheena Deviah, the book sparks creative imagination by combining hilarious rhymes with ingenious pictures created using trash and a few pencil strokes.
Two of my favourite pages feature a sheep made of discarded bubble wrap and birds on a wire made with discarded pistachio shells. The examples of trash used in the book are all easily found in any home and go a long way towards keeping kids engaged, especially on long weekend afternoons.
This is not a book that talks about recycling or segregation or even how to be an eco-warrior. Do we wish there were some pages with such information? In my opinion, there are enough books on facts about waste. The purpose of this one is clearly to show your child what best can be made out of waste and therein open up room not just for creativity but also for discussions on artistic recycling. So, gather those supplies and let the creative juices flow!
Also available in Hindi, Kannada, Tamil, Marathi and German