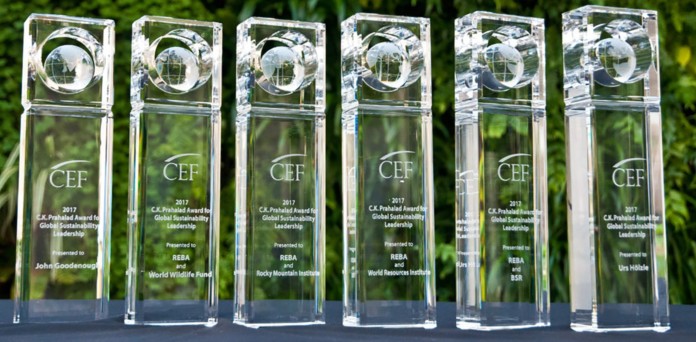 The Corporate Ecoforum has honored three winners at its 10th Anniversary Leadership Retreat for exemplifying the fundamental connection between sustainability, innovation and long-term business success in a globalizing world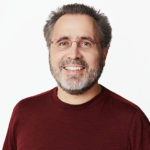 CEF presented the 2017 C.K. Prahalad Awards for sustainability leadership by an individual executive to Urs Hölzle, Senior Vice President of Technical Infrastructure for Google, and to Renewable Energy Buyers Alliance (REBA) for collaboration. The jury also extended an honorary award to Dr. John B. Goodenough, Professor in the Cockrell School of Engineering at The University of Texas at Austin. The awards were announced recently at the 10th Anniversary CEF Leadership Retreat, attended by senior executives representing CEF member companies with combined revenues of over $3 trillion.
Hölzle was recognized for bringing about innovations and radical efficiencies in data center technology and increasing corporate purchasing of renewable energy, which have allowed Google to aggressively reduce greenhouse gas emissions. A pioneer in green data center design, Hölzle's leadership has resulted in significantly less energy used at Google data centers when compared to traditional data center designs. This is significant, because in aggregate, Google's cloud infrastructure consumes as much capacity as the city of San Francisco daily.
Hölzle has also played a key role in Google's 'moonshot' commitment to achieve zero waste to landfill for its global data center operations, diverting 86% of waste from such operations, and achieving 100% diversion rates at six data centers in 2016. He has led Google to become the world's largest corporate purchaser of renewable energy, achieving 100% renewable energy and carbon neutrality for its global operations in 2017. The company has signed 20 agreements totaling 2.6 gigawatts of renewable energy since 2010, generating emissions savings equivalent to taking more than 1.2 million cars off the road.
CEF's Founder, MR Rangaswami said: "To address the risks of climate change, we urgently need courageous vision and action from inside companies, as well as support from the very top. Urs has not only accelerated Google's sustainability, he has also cut a path for other companies to
follow suit."
REBA for Power of Collaboration
The Renewable Energy Buyers Alliance (REBA) has been awarded the C.K. Prahalad Award for demonstrating how collaboration is critical to widespread adoption of renewable energy. With an ambitious goal to facilitate and deploy 60 gigawatts of new corporate renewable energy in the U.S. by 2025, REBA has already demonstrated the power of their partnership.
REBA brings Rocky Mountain Institute's Business Renewables Center, World Wildlife Fund's Corporate Renewable Energy Buyers' Principles (supported by WRI), World Resources Institute's Charge Initiative and BSR's Future of Internet Power initiative together under one umbrella, providing a platform that meets the needs of buyers, developers, utilities, and regulators in a complex and ever-changing sector.
RMI's Business Renewables Center is a member-based platform that streamlines and accelerates corporate purchasing of off-site, large-scale wind and solar energy. The initiative's 200 members have collectively completed over 7.5 GW of renewable energy deals.
WWF's Corporate Renewable Energy Buyers' Principles, supported by WRI, outlines what corporate buyers want from the market to increase access to renewable energy, and engages utilities and utility regulators and policy makers to expand access in the US, Mexico, India and China. The 65 Buyers' Principles signatories represent over 48 million megawatt hours of annual demand by 2020.
WRI's Charge Initiative convenes companies and utilities in action-oriented partnerships to expand clean energy in China, India, the United States, and across Southeast Asia and Latin America.
BSR's Future of Internet Power initiative brings together companies to address challenges and collaborate on solutions that will enhance the ability to procure renewable energy to power data centers. As of June 2017, more than 20 data center using companies and providers have demonstrated support for sustainable and clean energy practices through the initiative's Corporate Colocation and Cloud Buyers' Principles.
P.J. Simmons, Chair of CEF, lauded the REBA partners for their vision, ambition and achievement: "REBA demonstrates what is possible when diverse stakeholders put their egos aside and work together to solve huge problems. The four partnering organizations are modeling what a successful collaboration looks like. We're proud that twenty-six CEF member companies are already part of REBA, and extend this award to them as well."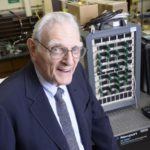 Dr. John B. Goodenough – The 94-year old Battery Man 
CEF extended an honorary C.K. Prahalad Award to Dr. John B. Goodenough. Beginning in the 1950s with the magnetic element that enabled the first random-access memory (RAM) of the digital computer, Goodenough's pioneering work helped bring to market the first rechargeable lithium ion battery, essentially launching the wireless revolution. Most recently, at the age of 94, he led a collaborative effort with M. Helena Braga of the University of Porto, Portugal and The University of Texas at Austin to develop a potentially game-changing battery cell. Uniquely cheap, lightweight, and safe, it is designed to be charged faster and last longer than current batteries allow–breakthroughs that could overcome the technological hurdles that have slowed down widespread adoption of electric vehicles and stationary energy storage. Another advantage is that the battery cells can be made from earth-friendly materials, substituting widely available sodium for lithium.
Goodenough holds faculty positions in the Cockrell School of Engineering's Department of Mechanical Engineering and Department of Electrical and Computer Engineering at UT Austin. He is the author of eight books and more than 800 journal articles, and he is the recipient of numerous national and international honors. Commending Goodenough for the award, CEF's Rangaswami reflected on his mentor C.K. Prahalad's strong belief in the power of imagination to guide executive leadership and spur innovation, "John Goodenough is evidence of imagination being put to work for the greater good. We're thrilled to recognize his lifetime of achievements and are hopeful that his latest discovery will have major implications for the future of sustainable battery storage."
About the Award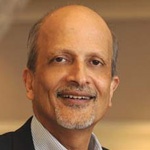 The C.K. Prahalad Award was created to honor the vision and life's work of the late Dr. C.K. Prahalad. Toward the end of his career, Prahalad focused his enormous talent on the link between sustainability and long-term business success. In a 2009 Harvard Business Review cover story he co-authored with CEF founder MR Rangaswami, Prahalad argued that over the next decade "traditional approaches to business will collapse, and companies will have to develop innovative solutions. That will only happen when executives recognize a simple truth: sustainability equals innovation." Prahalad was a senior adviser to CEF before his untimely death in 2010.
The C.K. Prahalad Awards were presented at the Cal Academy of Science, San Francisco, CA during CEF's 10th Anniversary Retreat, focused on "What If…?"
Meet the Winners of the 2017 C.K. Prahalad Award for Global Business Sustainability Leadership