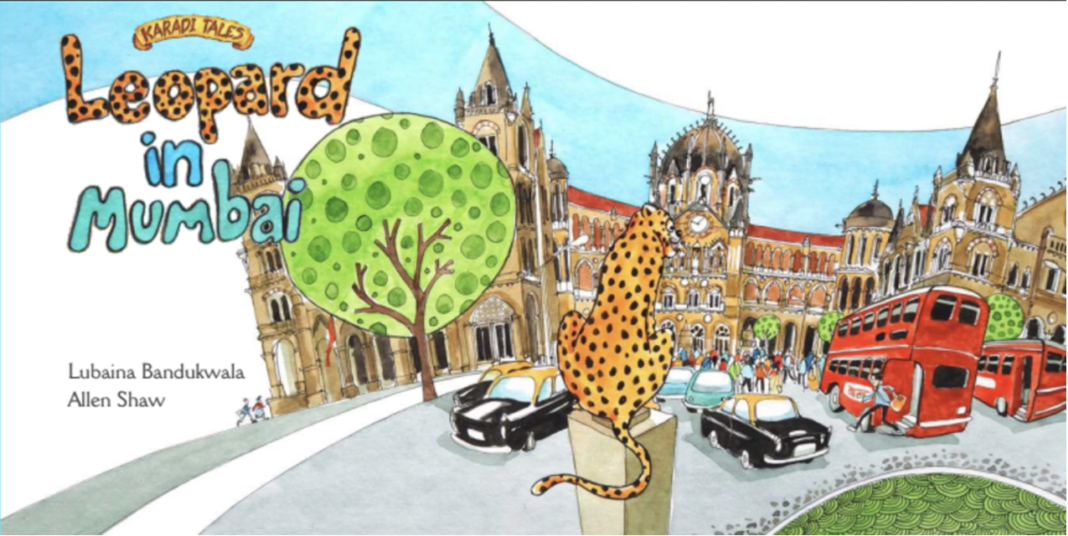 By Rati Girish
Imagine you are on your way to school one morning and you see a leopard sitting next to you on the bus! Or if you're at a pav-bhaji stall and right behind you is a leopard waiting for his turn to order! Fantastical as this sounds, it is exactly what happens in Lubaina's Bandukwala's Leopard in Mumbai published by Karadi Tales – a hilarious story of a leopard that leaves its home in Mumbai's famous Sanjay Gandhi National Park to go sightseeing around the city. He travels by the local train, kaali-peeli taxi and double-decker bus, he samples the lip-smacking street food and even stops to visit the famous Mount Mary Church festival. 
This may be an exaggerated narrative and definitely one that adults may find completely facetious, but reading it with my 5-year-old son gave me a whole other perspective. He found the book hysterical and began imagining different scenarios where one might encounter leopards. This led to a rather interesting discussion about encroaching on the natural habitat of leopards. About four decades ago, our building near Mumbai's Aarey colony used to be part of forest land. Today, it is a bustling residential area with patchy lawns and commercially grown trees. With this context, it isn't hard for children to understand that leopards could once have roamed these grounds or why the leopard in the story may have wanted to escape its habitat to take in the sights of Mumbai.
As such, Leopard in Mumbai can be used to gently introduce little readers to concepts of urban development, the ecology of cities, human-animal conflict and the delicate balance needed to live harmoniously with nature. A long-time Mumbaikar, former journalist and well-known children's author Lubaina is well aware of the sights in the city and successfully brings this knowledge to the book. However, the highlight of this book are the spectacular illustrations by Allen Shaw that are wonderfully showcased in its generous landscape format. He captures the hustle-bustle of the city, the mind-boggling adventures of the leopard and the shocked expressions of bystanders in exquisite, colourful detail.

Get this book for its stunning illustrations and its unique take on Mumbai city and its 'wild' life – and you won't be disappointed!