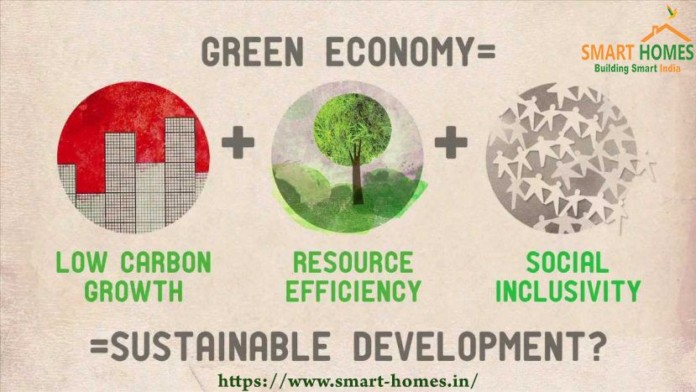 Many countries have announced economic stimulus to beat the damage done by the Corona pandemic. Isn't this a brilliant opportunity to turn this into a green stimulus package so that the adverse impact of economic revival on the environment can not only be minimized but could also be reversed to some extent.
The Energy and Resources Institute (TERI) has released a discussion paper to the government. Sustainability enthusiasts hope the government takes a good look at it.
The larger purpose of the paper is to make green economy commercially viable along with accelerating economic growth and faster job creation. If these objectives are met even half way, India could be on road to a much-needed and smoother environmental transition. While this may take a couple of years longer than conventional economic revival, the benefits to ecology and to the economy as a whole will be much larger and longer.
The Green Stimulus is estimated to cost the government approximately INR 40,00,000 crores ($ 540 billion), spread over this decade. Specific proposals include:
Incentivising Cleaner Transport (investment potential of INR 160,000 crores per annum)
Subsidise fleet modernization of existing vehicles to BS-VI, use of electric vehicles and provision of buses for public transport.
Producing Renewable Energy from Agricultural Residues (investment potential of INR 22,470 crores per annum)
Announce a commercially viable procurement price for the next five years for briquettes made from crop waste.
Creating Renewable Energy from Animal Husbandry Waste (investment potential of INR 88,000 crores per annum)
Introduce a commercially viable feed-in tariff for purchase of electricity generated from animal husbandry waste (excreta from cattle, poultry, pigs, etc.) by Distribution Companies.
Promoting Solar Generation in Rural India (investment potential of INR 27,00,000 crores)
Announce a commercially viable feed-in tariff for purchase of electricity generated from rural areas in the kilowatt range by Distribution Companies.
Supporting MSMEs to Become More Green and Competitive (savings potential INR 15,000 crores every year)
The stimulus package envisaged by the government can be used to finance investments in the MSME sector for enhancing competitiveness through energy efficiency. This would involve replacement of energy inefficient boilers, pumps, motors etc.
Creating Domestic Manufacturing Capacity for Solar Power and Energy Storage (investment potential of INR 2,94,000 crores by 2030)
Invite bids for solar power with-storage with the condition that manufacturing with full value addition would be done in India.
https://www.teriin.org/press-release/teri-proposes-fiscally-responsible-green-stimulus-revive-growth-and-jobs