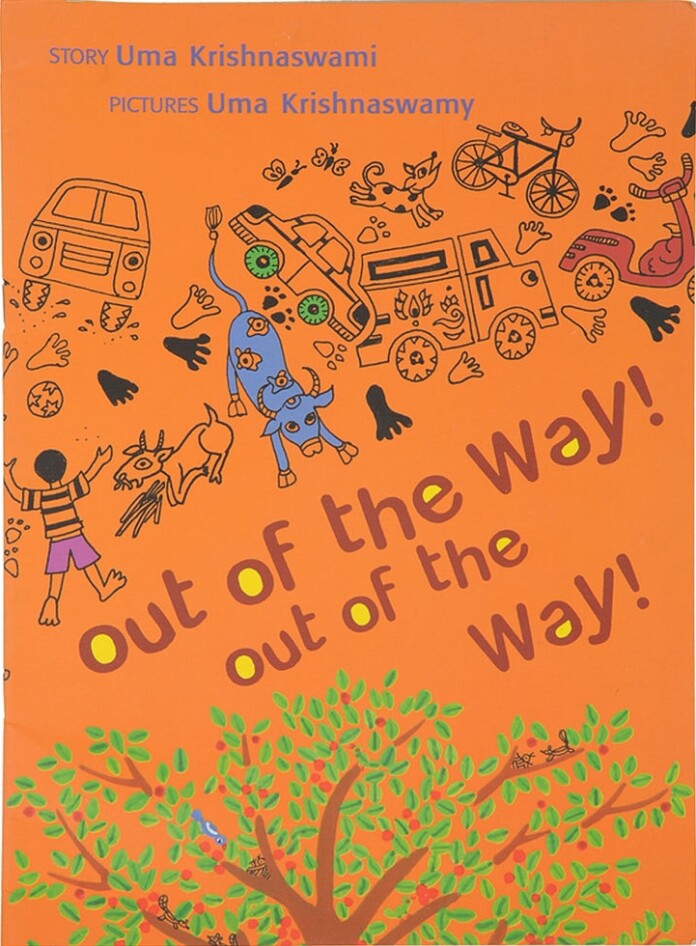 By Aparna Kher
A boy notices a small sapling on a dusty path that runs through a busy village, and instinctively protects it with stones. People and goods passing by, on ever-faster wheels, shout "Out of the way, Out of the Way" as they make their way around it. They pound and flatten the path into a regular thoroughfare. Over time, the tree becomes taller and wider, serving as a nesting place for birds and a meeting place for the community. The boy keeps returning to the shade of the tree as he grows older from father to grandfather. The thoroughfare grows into a street and then a wider, busier road for bigger and faster vehicles, some of which stop a while in its shade.
Out of the Way, Out of the Way written by Uma Krishnaswami and published by Tulika is a timeless tale of how landscapes evolve, and how nature and development can go hand-in-hand and even complement each other. It speaks of changes visible all around us that we rarely pause to notice.
Vibrant, folk tale-style illustrations by Uma Krishnaswamy contextualise the story within an Indian rural setting. They also add more depth to the narrative. We see scenes from a village like huts with grains drying outside, a lady talking to a girl, a balloon seller. As the sapling grows into a tree, the huts also grow in number and size. Some become larger houses and buildings. We see more fields, more carts, a small school, vegetable vendors and other scenes from a town that convey the growth and development of what was once a village.
Children will find it interesting to spot the different aspects of everyday life that dot this landscape and see how these evolve over time. This can then lead to conversations on how their own surroundings may have changed, encouraging them to pause and ponder.
The spectre of uncontrolled urbanisation is a reality of modern India. While most children in pre-independence and newly-independent India were born in villages and small towns, most children of today and tomorrow will be born in cities. Yet ideas of urban development are rarely discussed in children's literature. This is precisely what makes this picture book delightful and important at the same time – the beauty and simplicity with which it captures this complex, contemporary concept.
Also available in Hindi, Bengali, Marathi, Gujarati, Tamil, Telugu, Kannada and Malayalam