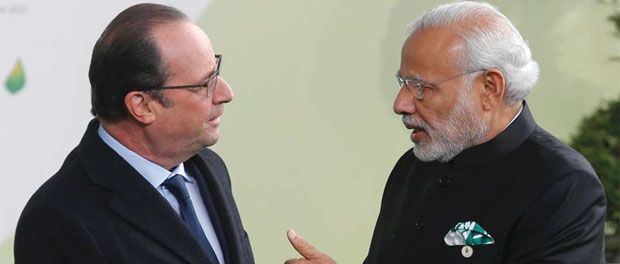 By Benedict Paramanand
The US Secretary of State's statement that India would be a "challenge" at the Paris Climate Change summit shows how difficult it is to change long-held perceptions. Perceptions about India's ability to play a constructive role in most international dialogues concerning trade, environment, and labor is near abysmal. If it achieved results all these years, perceptions wouldn't have mattered that much. It's best to leave it to experts to say if India achieved even remotely significant results all these years.
This is making Prime Minister Modi's job that much more difficult. He is using all his charm and looks sincere to change the narrative. He is doing that with a lot of self belief about his ability to translate India's international commitments into action. Modi realizes that it is India's big chance to play a constructive role in shaping global policy and by doing that he, rightly believes he can shake up the slothful and clumsy domestic players.
No other Indian prime minister has shown Modi's agility and ease of networking with big players like he is doing now. He wants the world to know that India means business and is willing to play the high stakes game. His dream project – 175 GW of renewable energy – has got most global businesses drooling over him. The 'clean India mission' and '100 smart cities project' are multi-billion dollar global opportunities.
What's also driving India to play ball instead of looking to nitpick at the negotiations is how China has opened up to climate change issues. In the last three years of so China has taken very bold steps to rein in consumption and is willing to take a hit on its growth rate for that. The current low petro prices is thanks to China.
At the same time, PM Modi didn't lose the opportunity to blame the developed nations for the current mess. This he has to do to negotiate a harder bargain and not lose friends from the developing world, like Brazil.
His offer to host an international solar alliance secretariat in India with financial commitment of $30 million demonstrates to the world that India is indeed ready to take on cost for global cause and not wait for freebies from the West.
His bigger challenge is to enhance the confidence of global and Indian businesses to invest in India through policy clarity and a robust roadmap. More needs to be done on 'ease of doing business' by removing bureaucratic hurdles. If he is able to execute his Clean India Mission, 100 smart cities projects and ambitious renewable energy projects, he will be in a good position to balance development and climate change. He is clear that it's no longer development vs. climate change it's rather development and climate change. A tough task ahead but India has never looked this positive in getting closer to achieving it.