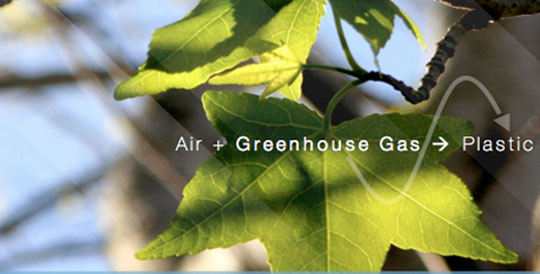 The idea appears preposterous but it seems for science nothing is impossible.
In May 2014, Sprint had announced it will be one of the first companies to use AirCarbon™, a new carbon-negative material made from greenhouse gas, instead of petroleum, to create plastic products. The material has been used in black and pink cell phone cases for the iPhone® 5 and iPhone® 5s that was sold online for $29.99. Sprint is the first telecommunications company in the world to launch a carbon-negative product using AirCarbon.
The material, AirCarbon™, is manufactured by California-based Newlight Technologies. The company uses a proprietary carbon capture process to convert air and greenhouse gases (GHGs) into a plastic that has similar durability and performance characteristics to petroleum-based plastics. The conversion technology can synthesize high-performance thermoplastics from a wide range of sources, including methane and/or carbon dioxide from agricultural operations, water treatment plants, landfills, anaerobic digesters, or energy facilities. The material has wide applications, as it can then be formed and molded into almost any given design.
Newlight Technologies has been working on this breakthrough technology since 2003. It seems to be at an inflection point with the likes of IKEA and DELL signing up big deals. The company is making efforts to make global impact in a big way. Its 15-year technology license agreement that with Paques to manufacture, process, and sell bioplastics based on Newlight's proprietary greenhouse gas to AirCarbon™ conversion technology, at a rate of up to 1.3 million metric tons per year is considered a breakthrough. Under the agreement, Paques and Newlight will work together both commercially and technically to accelerate the expansion of AirCarbon production capacity globally.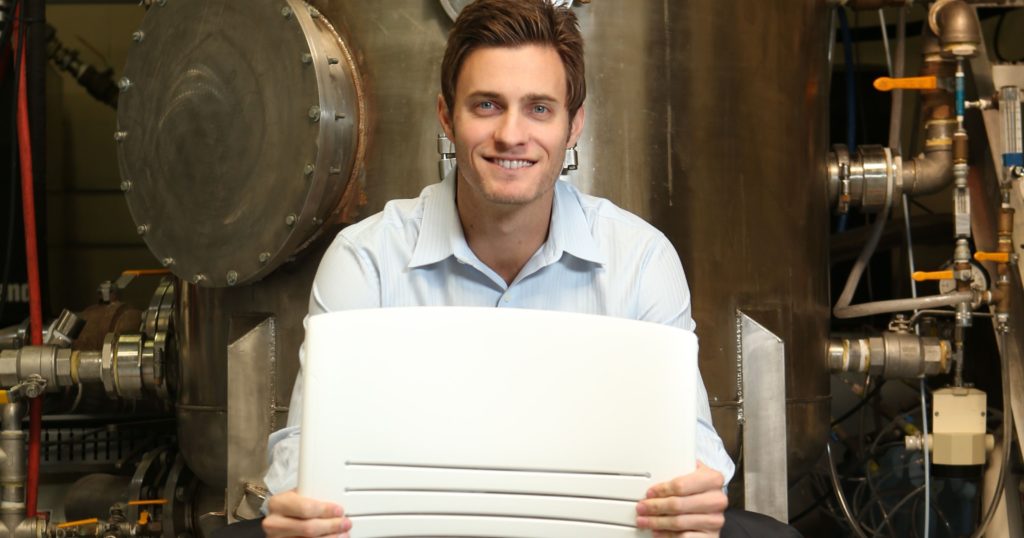 What is AirCarbon?
AirCarbon is a special material. It is produced in most known living organisms, from cattle, humans and trees; an evolutionary ancient molecule that is used to store carbon. It is biodegradable, as strong as plastic, and it can be melted and formed into shapes. First out of a garage, then dorm rooms, and then for many years out of a quiet facility in Southern California. Finally, seven years later, in 2010, they had a breakthrough, and discovered how to pull carbon out of greenhouse gas to make AirCarbon at a yield that had never been achieved previously: nine times higher than previous.
IKEA and Paques have taken out production licenses to AirCarbon technology to produce AirCarbon material themselves, Vinmar has signed a take-or-pay contract with Newlight for large scale supply of AirCarbon, and Dell, KI, Hewlett-Packard, L'Oreal's The Body Shop, and others have created commercialization partnerships with Newlight to replace plastic and reduce the amount of carbon in the air on a market-driven basis.
"But it is not enough. We are not satisfied. We need to go bigger, move faster. We need the entire world to be participating in this effort, moving together, as one. Because only then will we make the impact we need to make," a senior company executives said.
https://www.youtube.com/watch?v=HJgKk4N25wg
In the past few months, Newlight has signed £74 billion of AirCarbon in off-take purchase or licensed production agreements: global scale agreements that will create significant value by reducing cost for consumers, moving oil out of our products, and reducing the amount of carbon in the air.