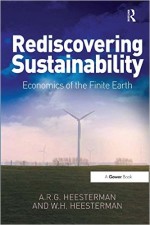 Drawing on historical and current data, this thought-provoking book summarises the pathways to the present predicament and maps out strategies to develop financial and economic systems for a sustainable world. The content is arranged in three parts addressing 'Stylised Market Equilibrium', 'The Real Market Economy', and 'Present Affluence Versus the Future'. In Rediscovering Sustainability the authors help bridge the gap in understanding between scientists and the green movement on the one side and many economists on the other. Greens worry about catastrophic climate change and anthropocene mass extinction. Economists express reservations about spending substantial amounts of
money on preventing environmental degradation. Aart and WiebinaHeesterman argue that there are inherent limitations in standard economics which cause blind spots in its environmental economics sub-field, as well as issues to do with simple lack of knowledge.
In this timely book, the limitations of the neoclassical economics framework are examined. The authors explore the relationship between Keynesian aggregate economics and financial sustainability, as well as that between scale economies, locational economics and the understated cost of fuel for transport. The impact of economic theory on practice is examined.
Conventional economic theory and political compromise bear unhelpfully on an energy market constrained by emissions targets. Rediscovering Sustainability is an invaluable aid to understanding for those teaching, studying, campaigning, policy-making, or involved with the science or politics of environmental and sustainability issues. It is also a book for those concerned with the application of economic theory in any context.