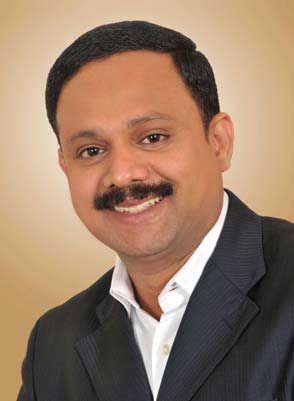 Alarmed that more than 600 million Indians defecate in the open and more than 1,000 children die due to a preventable disease like diarrhea every day Eram Scientifi c Solutions (ESS), a Kerala based R&D Social Enterprise, promoted by Dr. Siddeek Ahmed, Chairman & Managing Director, forayed into highly nascent and neglected Indian public sanitation sector six years ago. Eram Scientifi c's eToilet (Patent Pending) addresses the concerns of structural integrity, ensuring cleanliness and hygiene and a dedicated maintenance plan through its product and service methodology in schools. Minimal technology intervention in its cleaning system has made signifi cant improvements in providing clean and hygienic enclosures for students and moreover eliminates manual support.
Product Description
eToilet is a revenue-generating sanitation model with a unique ambience and is an innovatively-designed and engineered public sanitation model to suit Indian urban locations. This innovation involves unmanned operations and thus ensures easy and continual operation of the toilets while minimizing unnecessary maintenance costs. eToilets are built of stainless steel or mild steel enclosures and have electronic systems for enhancing user experience and for tracking the health status of eToilets. eToilets have automated access control systems, sensor enabled water minimization, selfwashing and fl oor wash mechanisms. The well-lit interiors with LED lights glow only when a person enters and has ample natural ventilation as well as offers privacy and safety.
The eToilet has a facility of pre-fl ushing before entering, automatic fl ushing once usage is done, in-built water tanks, sensors for water and electricity conservation, automatic platform cleaning and power back-up with coin operated entry. Keeping in mind individual needs, these toilets are programmed to fl ush 1.5 litres of water after three minutes of usage or 4.5 litres if usage is longer. The performance status of the units can also be monitored via web using GPRS connectivity of the units.
Full-cycle approach
The eToilets incorporate a full-cycle approach in sustainable sanitation by integrating electrical, mechanical and web-mobile technologies. eToilets have multiple revenue options which ensure sustainability of operations.
Besides offering a menu of most modern technology options, the eToilet also offers custom-sized Stainless Steel enclosures that are extremely durable, corrosion-resistant and are unswerving in the long run. Having geared up to respond to a demand-led approach in sanitation to meet the basic sanitary needs of the common man, a range of interventions in the form of various product variants such as eToilet General Public Model, Civic/School Model, e-Lite 14 for schools and She Toilet has been introduced for the benefi t of the communities, at large. In addition to these, Eram Scientifi c has also introduced world's most economically priced solar powered, self-cleaning eToilet, with inbuilt solar panel and metallic platform for schools.
This model is aimed at buyers in the private sectors, NGOs, CSR, Foundations. Hence we have created a paradigm change in public sanitation through eToilet. Environment friendly onsite waste treatment systems are coupled with the robust technology interface and sturdy structure of eToilet.
A newly coined term of "Connected eToilet Infrastructure" has been conceived to bring in transparency and accountability in public infrastructure.
Sanitation Champion
Apart from this, in an effort to build a sustainable sanitation network in Kerala, Eram has also developed a unique entrepreneurial model for ensuring sustainable sanitation using convergent technologies. The model involves empowering the last mile entrepreneur from the base of the pyramid with a livelihood opportunity along with managing the eToilet, thereby developing him as the Sanitation Champion of the particular region.
We have launched eShop Model in Kozhikode Corporation in association with Kudumbasree, a Kerala based SHG. A total of 6 eShops are operational in Kozhikode and another 10 will soon be added. In this regard, we have also facilitated major tie-ups with leading brands such as Cadbury, Britannia, Idea, Café Coffee Day, Parle, etc. Eram Scientifi c having forayed into public sanitation in 2010 with its fl agship product eToilet has now crossed 600+ installations spreading over more than 13 states in India covering whole of Kerala, Tamil Nadu, Karnataka, New Delhi, Himachal Pradesh, Nagpur, Haryana.
International Collaborations
ESS has established collaborations with the world's leading players in the sanitation and waste treatment sector with grants from Bill and Melinda Gates Foundation (BMGF), and is collaborating with California Institute of Technology (Caltech), University of South Florida, Duke University, IDEO.org and others. Eram has so far won 34 national and international awards. It was also awarded the World's Most Innovative Companies – India List 2014 by US-based Fast Company's Annual Most Innovative Companies issue.
Our long term vision envisages build in a sustainable and well-maintained toilet and public infrastructure network across the Country that is affordable and accessible to the common man. We plan to conduct further research into eToilet to make it 100% touch less for use. Our ultimate vision is to develop eToilets which are self-sustainable, creating its own energy and water for its functioning and also powering the external environment. Eram Scientifi c is all set to go global with its line of products that will redefi ne the public amenities sector.
There are multiple revenue models, including outright purchase by local bodies, a sponsored model involving CSR funding by corporates, and an entrepreneurship model where the operator can have a parallel revenue stream by getting advertisements on the exteriors of the eToilet. The installation cost and other related expenses can easily be recovered through the daily collection. The agency or local body can recoup its investment in the e-sanitation facility through the coin collection and advertisement revenue within a short period of time.
Funding source
The eToilet installations in Kerala are made possible through various funding sources such as MP Local Area Development Funds, Local Self Governments and CSR Funds. We work on service-level agreements and performance-based contracts with the respective local body as way to ensure the delivery of sustainable sanitation services that are equitable and provide both private (user) and public (health/ environment) benefits.