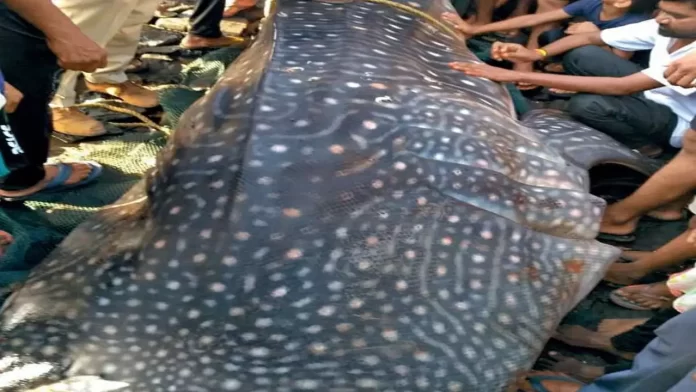 Tata Chemicals has said that through its 'Save Whale Shark Campaign' it has saved more than 850 of these endangered species in the last two decades in the Saurashtra region along Gujarat's coastline.
This initiative of Tata Chemicals, Wildlife Trust of India (WTI) and the Gujarat Forest Department has garnered extensive support from the fishing communities of Gujarat resulting in a decline in cases of poaching from around 600 in 1999-2000 to zero in 2021.
For effective implementation of this project, migration research studies of Whale Sharks from Gujarat Waters have been conducted. So far eight satellite transmitters on rescued Whale Sharks have been deployed. The results were analysed in collaboration with the Australian Institute of Marine Science (AIMS) and published in the International Journal of Frontiers in Marine Science. 18 Genetic study samples have been collected and analysed from rescued Whale Sharks in Gujarat waters.
As a part of this campaign, Tata Chemicals organizes an array of activities every year. To commemorate the 14th International Whale Shark Day a seminar was organized in Mithapur. During the event, two decades of conservation partnership, milestones achieved, challenges faced, and the road ahead were discussed. Mr. B.M. Praveen Kumar, Manager & Technical Head – Marine Projects, WTI; Prof. B. C Choudhury, Executive Trustee of WTI; Mr. Agneeswar Vyas, IFS, Dy. Conservator of Forests (SF), Dept. of Forests; Mr. Satyajit Roy, Head – Operations, Tata Chemicals were present at the event amongst others.
Shri Morari Bapu, a well-known religious leader was also roped in to make it a people's campaign. Several educational activities were carried out to raise awareness about this campaign. Twenty signboards for Whale Shark conservation have been installed at fishing harbours on the Gujarat coast.
The concerted efforts of the company and the partners have resulted in the whale shark becoming the second wildlife pride in the State of Gujarat, after the Asiatic lions and seven coastal cities in Gujarat, including a non-coastal city, Ahmedabad, have adopted the whale shark as their city mascot. The Whale Shark conservation project has sensitized over 50,000 fishers and 100,000 coastal students through campaign awareness drive to inculcate the message of conservation.
Established in 1980, the primary aim of Tata Chemicals Society for Rural Development (TCSRD) was to initiate and support community development programmes in and around regions where its facilities are located. And while each region is different in terms of geographic spread, subcultures and socio-economic requirements, TCSRD strives to protect, nurture and uplift the communities by adopting an integrated approach to development and designing region-specific need-based programmes.
Tata Chemicals is part of the US$ 128 billion Tata Group. It is a leading supplier to glass, detergent, industrial and chemical sectors. The company has a strong position in the crop protection business through its subsidiary Rallis India Ltd.