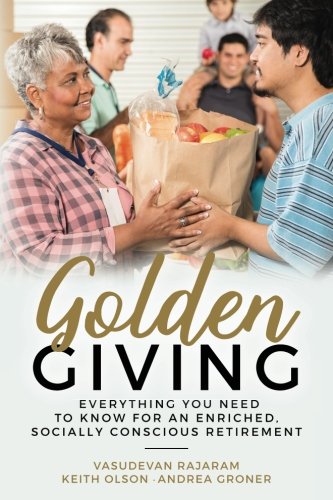 The joy of giving back to society is not surpassed by any other joy is the message conveyed by the authors and we should all experience this joy in our lives. Let us enrich our lives by donating what we can to the needy in our society.
Golden Giving is written for retirees or those planning retirement and contains all one would like to know about how to spend their retirement years by giving back to society while living a healthy, and productive life.  This book is based on the premise that retirement can be fully enjoyed only if one gives their talent, time and treasure for the betterment of their communities and welfare of the poor around the world. 
It is written by authors who practice this philosophy and are serving their communities while in their 30s, 60s and 80s. I bring 25 years of experience in giving back to communities in Chicago and India, Mr. Olson describes how he takes care of his health while in his 80s while serving many environmental causes in his community near Chicago and Ms. Andrea Groner provides a lot of theoretical background of giving in the United States and her experience with Americorps, a volunteer organization of young professionals giving back to society.
The book opens with a chapter on Taking Care of Yourself to Take Care of Others, and emphasizes the maintenance of general health, proper food and diet, and financial health. A chapter is devoted to Finding your Cause by defining the values for successful philanthropy. It mentions how various religions stress the value of giving back to society through contributions of time and money. How one can give locally in their community by finding causes and organizations serving these causes is described in the third chapter.
International Giving
A chapter is devoted to international giving, and the importance of giving toward the 17 Sustainable Development Goals of the United Nations is stressed. Examples of giving to needs in health, hunger, education, energy, livelihood, environment/water, human trafficking and refugee assistance are provided. A detailed description of nonprofit organizations in the United States and how to get involved with them is provided in one chapter.
A chapter is devoted to New Mediums of Giving, which include crowdfunding, microfinancing, philanthro-capitalism, and social entrepreneurship. Dr. Rajaram's experience in fundraising for nongovernmental organizations in India and Keith Olson's experience of raising funds is detailed in a chapter. It includes identifying potential donors, meeting with fundraisers, stewardship of the funds raised, and holding fundraising events.
A chapter provides inspirational stories of people in the United States raising funds and donating their time, talent and treasure for causes in India and Africa. The book ends with a Suggested Action Plan for anyone planning retirement, and includes choosing the charitable organization or cause, working with nonprofits, fundraising and starting your own nonprofit organization.
The current Covid epidemic has shown how the poor are vulnerable to this deadly virus. We should all do our part to help the migrant labour and others in need by donating our time, talent and treasure to help others.
Mr. Rajaram's other books include: