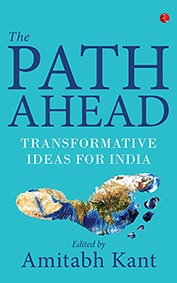 The book brings together a rare combination of industry executives, domain thought leaders, and government officials, highlights the challenges and possible solutions for key sectors that are the cornerstone for India's future growth. Each of the authors is a leader in their own right, and has been a key contributor to the India's growth story.
Their cutting-edge, unique, and focused ideas symbolize the best strategies to promote a particular sector vital for sustainable growth. This crucial compilation is a ready reference for not just young minds, but can also inspire future leaders on its journey to becoming a global powerhouse.
Amitabh Kant is CEO of National Institution for Transforming India (NITI). He is the author of Branding India: An Incredible Story. Kant has been a key driver of initiatives like 'Make in India', 'Startup India' and 'Incredible India' that positioned India as a leading manufacturing and tourism destination.