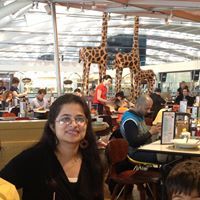 Deepa Vedavyas shows a glimpse of her rich learning and experience about true sustainability, how design and architecture can play a positive role in shaping the future of communities.
Deepa is an architect, urban planner and founding principal of the Bengaluru-based Ecopod Architects. With a focus on sustainability in her planning and architecture projects Deepa has co-led and spearheaded many projects of varied scale and for diverse community members in USA as a Director of Planning and Development for a CDC and in her private firm in India.
Her projects engagement range from the first LEED ND Silver certified pilot project in Cleveland, OH to conducting feasibility study for a non-profit's 55 acre lot in Virginia, to a rural study of five villages in Andhra Pradesh in order to propose highest and best use for a 14 acre social infrastructure development project as well as residence and commercial interiors. As a visiting faculty Deepa Vedavyas teaches at the Department of Architecture, Adhiyamaan College of Engineering, Hosur and serves on their Board of Education.
I moved to India from USA in 2014 after 14 years. I identified myself as an urban planner with architecture background and a focus on sustainable communities. But when people hear me say that they would always correct me 'so you are an architect'. At first, I denied identifying myself 'only' as an architect. Later on, I came to realize that during the first two years of my move, I clearly had an identity crisis.
To top it all, I am a social worker at heart and that did not make things any easier for me. After three years, I now attempt the questions better 'what do you do or what is your work or how do you see yourself here? I'd now say, 'I am a social impact architect with a focus on opportunities to impact people and buildings just happen to be one of the elements'. Whether it is my work in serving as a director of planning and development at a low income and highly impoverished African American neighborhood or an architect commissioned to design office interiors and residential spaces; one thing that has remained a constant in my work is its impact.
To me, creating transformative and replicable solutions for social issues at the level of individuals, communities and cities, through design is an impactful intervention. I recollect the course instruction at Harvard by Dr. Greg Norris on Footprint Vs Handprints. In simpler terms he explains the following: footprints are "measure of burden our existence on the planet". On the other hand, handprints are those that include your individual footprints and your impact outside your footprint. The positive impact one could cause or enable to happen.
Personally, I would strive for my impact at an individual level to be net positive. I am a strong believer in the philosophy of Jason McLennon, founder of Living Building Challenge, when it comes to built environment. Our collective goal for the built environment should be to move towards designing net positive building, communities and cities through a participatory approach. This to me is the true essence sustainability.
I recollect my involvement in the first LEED for Neighborhood Development (LEED ND) silver certified project in the city of Clevelant 'St. Luke's Pointe'. This is a 58 acre project that involved Energy STAR rated school, LEED silver Library, historic preservation of a hospital to a LEED certified senior living facility along with creating a 3 acre urban farm as part of redevelopment of dilapidated structures of the neighborhood. We also commissioned six public art projects within the LEED ND development. This project would remain dear to me as it enabled active communication and solicitation of community input. The effort bridged the fragmentation within the community and aided in creating a sense of place to the residents.
One of the greatest learning to me in this project was that as a team we did not start out by saying 'what do we want to design?' but we started off by asking "What do we want our design to do and why do we want our design to do that?"
Future Creates Present
I would like to place a greater emphasis on our shift from traditional thinking. As Peter Block says, traditionally our approach has always been "What has worked elsewhere can work here", "future is a problem to be solved", "more measurement produces better results" and "people need more training".  This will not get us to a sustainable future. What we need is the realization to shift our thinking. For example, "future creates present", "listening creates speaker", "openness to learn creates teaching"; in each case choice or destiny replaces fate.
As a teacher, my wish would be that architecture schools nurtures students to be authentic as individuals and emphasize the true potential that architecture has when it comes to impacting people with design. This would naturally include human element and not just the building. This culture could lead the next generation of architects to talk about Return on Human Investment (ROHI) and not merely on the Return On Investment (ROI).
Disclaimer: Works and philosophies of people who continue to inspire me have rooted my thinking. Listed are a few who inspire me the most: Jason McLennon, Living Building Challenge; Dayna Baumieser, Biomimicry; Leith Sharp, Harvard University; Natalie Voland, Quo Vadis; Dr. Ashwin Mahesh, Mapunity; Liz Ogbu, Designer; John Peterson, Architect.
Deepa has been organizing a monthly chat series for budding and established architects and students called Chai Chat in Krishnagiri, 100 kms from Bengaluru. She plans to start it in Bengaluru in 2018. Topics covered include – Natural stones, Digital Art, photography workshop, NATA exams and architecture career talks, thesis presentation.
Find future chats at https://m.facebook.com/ecopodarchitects/