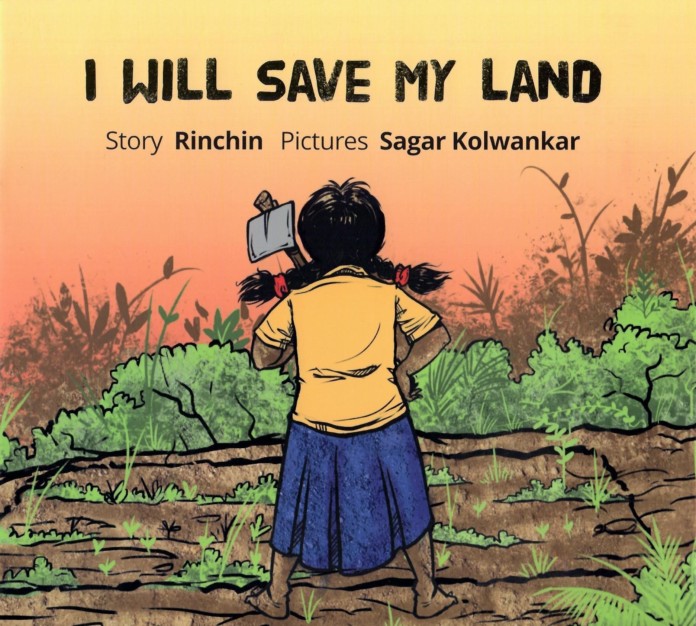 By Aparna Kher
Books are considered to be a 'window to the world' because they expose children to diverse issues that they may not otherwise be witness to. If you are especially keen to introduce children to diverse, multicultural issues interwoven with environment and development, I Will Save My Land written by Rinchin and published by Tulika is a book that will grow with you and your children.
The story focusses on Mati, a feisty little girl who is keen to work with her father and ajji (grandmother) on the fields which they own. Her father, however, discourages her from helping by saying that she is not strong enough or she will not do it well enough. When Mati insists, saying that the fields are hers too, he says that girls can't have their own fields. Prevailing gender and caste biases in owning and cultivating land are laid bare when ajji says that she had to fight to inherit and plough her land after her parents passed away.
To encourage Mati to have a sense of ownership over the land, ajji carves out a small square within the field and teaches Mati the basics of cultivation to look after it. The connectedness that Mati feels with the land and the desire to have her share of the earth, which is an integral part of their life and livelihood, is endearing. Mati, means earth after all.
The farmers are faced with the threat of dispossession when a big coal company wishes to buy their land to construct a coal mine. They would receive large sums of money in exchange for it. While some agree to sell, others wonder how they would earn their livelihood without land and refuse. Mati and her family see the effect that the coal mine would have on their land and surroundings when they pass a coal mine in a neighbouring village.
Here, the book raises pertinent questions about what 'development' really means and who it is for. This is also a good starting point for discussions with older children on the costs of such development and the compensation that farmers receive. The book is well-designed and the illustrations by Sagar Kolwankar convey the story without diverting too much attention from the text. Among the diverse scenarios portrayed in it, the one that struck me the most was that we all have a primal instinct to save our home, wherever that may be!