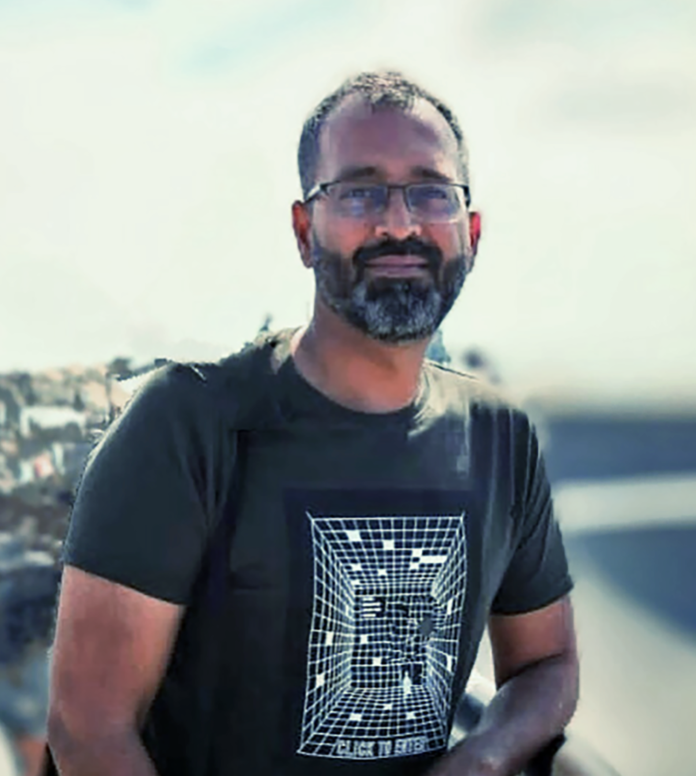 In a world where information is abundant and accessible and wisdom is scarce and fire-walled, progress is slow and skewed. Apurva.ai is trying to address the wisdom access asymmetry by offering an open innovation platform as a digital public good for researchers across all domains. It promises to empower change leaders who can now access collective wisdom and speed up offering tech solutions to complex problems.
This collective knowledge is accessible in multiple languages (Multilingual), through various channels like WhatsApp and the web (Multichannel), ensuring it is trusted, traceable, and bias-free.
Excerpts of a chat between Benedict Paramanand, Editor of Sustainability Next with Anand Rajan, founder of Apurva.ai.
Anand has more than two decades of experience working with the corporate and development sectors. He is the Chief Advisor for Societal Thinking at EkStep Foundation promoted by Nandan Nilekani. Anand's expertise is in enabling organizations to apply platform thinking to solve complex social problems. He also runs V-Lab at Societal Thinking, a prototyping lab for change leaders. He works across domains such as education, livelihood, equity, and climate.
Please share the origin of the Apurva.ai idea
A serendipitous discovery sparked the inception of Apurva.ai. It all began when Societal Thinking celebrated its 5th anniversary, and we engaged with over 150 global leaders, armed with probing questions such as how to inspire audacious reimagination and accelerate progress towards SDGs, catalyze a capital marketplace for sustained platform support, and effectively reach change leaders worldwide.
Our initial impulse was to compile a comprehensive report, yet we soon realized the unique perspectives and contexts of each leader were too valuable to homogenize. This prompted crucial inquiries:
Can we construct an infrastructure that preserves the integrity, context, and traceability of collective wisdom?
How can this wisdom endure, grow, and compound exponentially, functioning as a public good for solving complex social problems?
Can such infrastructures be easily searchable and available on demand?
And so, the concept of Apurva was conceived.
This revelation held great significance, as any Change Leader tackling substantial and intricate challenges requires unfettered access to the collective wisdom within their networks, enabling them to solve problems swiftly, at scale, and sustainably. The current availability of exponential technologies and Large Language Models (LLMs) presented a golden opportunity to harness their full transformative potential.
Enter Apurva.ai — an open innovation platform and a digital public good, empowering change leaders to amplify collective wisdom within their networks.
You are addressing a very important problem of – speed and scale – of innovations…
In our interconnected world, valuable information and expertise often exist in fragmented silos, impeding our ability to create meaningful and sustainable impacts. Apurva, a digital brain, functions as a dynamic embodiment of the collective wisdom within a network, continuously expanding with every interaction. It draws from diverse knowledge sources, including organizations, partners, and communities, supporting various formats such as text, voice, and video. Apurva effortlessly transcends linguistic boundaries, making this wealth of knowledge readily accessible through mobile and web platforms, allowing users to interact in their preferred language.
At its core, Apurva.ai values inclusion, trust, and emergence, fostering a comprehensive understanding of challenges, promoting collaboration, and facilitating serendipitous discoveries for novel ideas and solutions to flourish. Embracing these values, Apurva.ai aims to democratize knowledge, shatter silos, and empower individuals and communities, driving positive change for more equitable and sustainable societies.
Furthermore, there's a commitment to ensuring equitable access to transformative technologies for the non-profit sector, leveraging them to efficiently address large-scale challenges and create significant positive impacts.
Anand, the visionary behind Apurva.ai, brings global expertise from both the corporate and development sectors. Guided by Sanjay, an experienced leader at the forefront of advancing Societal Platform Thinking at Ekstep Foundation, and with Nandan Nilelani, co-founder and chairman of EkStep Foundation, co-founder Infosys serves as an advisor to Apurva.ai, the team behind Apurva.ai is dedicated to making collective wisdom accessible, fostering collaboration, and driving positive societal change.
What impact has Apurva.ai made so far?
Our journey thus far has been remarkable, with beta users from diverse sectors like Education, Healthcare, Energy, Agriculture, and Policy, including Catalyst Management Services, Project ECHO, Ministry of Agriculture & Farmers Welfare, Government of India, PlanetRead, SELCO Foundation, Swasti, Vrutti – Livelihood Impact Partners, and The Takshashila Institution. These organizations not only embraced Apurva but actively collaborated to shape the platform for collective benefit.
While Apurva primarily amplifies collective wisdom within an ecosystem, diverse organizations have utilized it to tackle specific challenges, such as:
Enhancing the quality of collaborative efforts during live interactions,
Amplifying community voices for informed decision-making,
Improving problem understanding for more effective solution and program design,
Establishing innovation platforms.
As we embark on the next phase, with more organizations in the pipeline, we eagerly anticipate the transformative impact Apurva.ai can have for all social change leaders.
Illustrate how Apurva.ai can transform a farmer's life in practical terms.
Agricultural challenges are deeply intertwined within our society. The solutions we design must truly work at scale and be sustainable for them to have a meaningful impact.
We view the community as the first mile, not the last. Farmers are not just producers but are also collaborative innovators. They hold a wealth of indigenous knowledge and practical wisdom. Imagine creating a space where their innovations and practices benefit the entire agricultural ecosystem, aiding academia, research, and policymakers for nuanced decision-making.
In a recent pilot project with the Ministry of Agriculture & Farmers Welfare, Government of India, and the Department of Agriculture, Tamil Nadu, we facilitated the creation and amplification of individual farmer innovations across the state. By curating the voices of 1,500 farmers, we've built a Digital Infrastructure powered by cutting-edge technologies like Artificial Intelligence, amplifying the collective wisdom of farmers.
This collective knowledge is accessible in multiple languages (Multilingual), through various channels like WhatsApp and the web (Multichannel), ensuring it is (i) trusted, (ii) traceable, and (iii) bias-free. The solution empowers farmers with knowledge, insights, and unbiased recommendations, fostering a cycle of knowledge sharing and grassroots learning.
Beyond farmers, this curated knowledge also benefits government officers, aiding them in understanding, improving, and propagating relevant suggestions. Such initiatives accelerate the transformation of farmers into agricultural innovators, influencing policy decisions and benefiting all stakeholders within the agricultural ecosystem.
The ministry has identified key areas for further collaboration with Apurva.ai, including:
Focusing on farmers' innovations, where the goal is to disseminate successful practices between regions and improve overall agricultural yields.
Strengthening integrated plant health management by consolidating information from various sources, including Indian Agricultural Research Institutes (ICAR), Krishi Vigyan Kendras, and state and central government extensions.
Leveraging Apurva.ai for in-house training and language learning, with the aim of evolving the system through conversation-based learning, leading to insightful recommendations for future actions.
Empowering farmer-producer organizations (FPOs) to maximize landholdings and assess the impact of government schemes through the Apurva.ai system.
Assessing the Impact of flagship schemes such as the Agriculture Infrastructure Fund (AIF).
Shed light on the company's growth plans for the next 5 years.
Apurva.ai has outlined a comprehensive strategy for continuous growth and progress, focusing on:
Partnerships: Building collaborations with a diverse array of stakeholders, including visionary Social Entrepreneurs, essential Funders and Enablers, dynamic Funder Collectives, and Network Collectives, to foster the development of the Apurva Ecosystem.
Global Reach: Aspiring to serve the unique challenges and requirements of Global South countries, Apurva.ai is designed to operate in multiple global languages, supporting both voice and text interactions in both online and offline modes to address critical global needs.
Sector Prioritization: Concentrating efforts on critical sectors such as Healthcare, Energy, Disaster, Policy, Agriculture, Climate, Livelihood, and Education, with the goal of driving impactful sectoral change and fostering meaningful advancements.
Self-Service Capability: Empowering both small and large organizations with a DIY approach, allowing them to fully utilize Apurva.ai's features and tailor solutions to their specific needs for comprehensive problem-solving.
Enhanced Accessibility: Striving for enhanced accessibility across various platforms, including popular messaging apps like WhatsApp and Telegram, and planning for Interactive Voice Response (IVR) interactions in local languages via feature phones, promoting multilingual support and inclusivity.