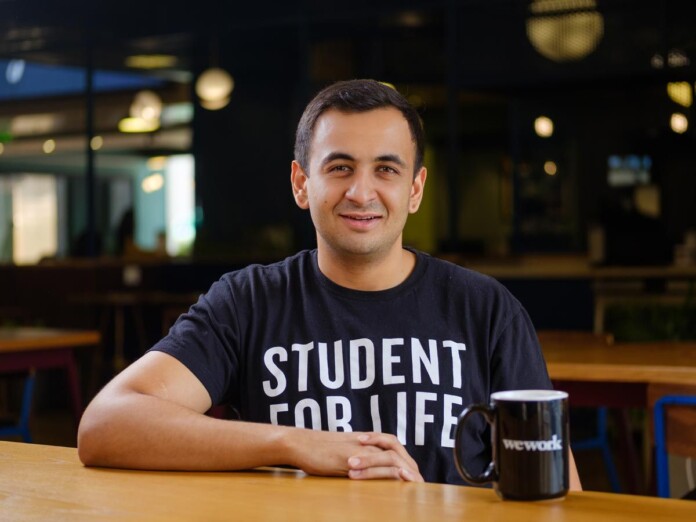 Smart workspaces in India are becoming conscious of their impact on the environment and are beginning to act. Market leaders like WeWork India are proactively creating a more sustainable workspace environment and have set ambitious goals for becoming energy, water, and waste efficient.
In a freewheeling chat with Benedict Paramanand, Editor, SustainabilityNext, Karan Virwani passionately shares WeWork India's plans for offering a cleaner and greener workspace to its customers.
Karan took over as the CEO of WeWork in 2018. In five years, he has closely seen what the pandemic did to the workspace business and in a short period, he has brought WeWork back on its feet. Today, WeWork operates in 50 locations in most Indian metros. Edited excerpts:
What's the post-pandemic scenario at WeWork?
Interestingly, we are no longer one of the most sought-after workspaces for startups and tech companies alone, a good percentage of our new customers are from traditional businesses. We are hosting close to 4,000 companies. We are now doing better than in the pre-pandemic era.
We believe we will create a domino effect among the 4,000 companies when we practice sustainable values ourselves. We want to host businesses that build innovative sustainable commerce models so that they can enhance their positive impact on the planet.
What are WeWork's medium to long-term sustainability goals?
We formalized our long-term goals recently. Our Sustainability Goals include:
Reduce energy consumption by 20% from 2019 baseline by 2026.
Divert 90% of our waste away from landfills by 2027.
Source 100% of our electricity from renewable sources by 2027.
Reduce and maintain water consumption to 20 litres per person per day by 2027.
We use tech in a big way and will do so in the future to cut wasteful consumption. Our building management system helps us enhance our efficiency in the use of all kinds of resources. AC is the biggest contributor to energy use. We have a partner who is helping us to cut AC energy use significantly.
Tell me a bit about Green Leases
There is an international benchmark on green leases today. Tenants are mandating how landlords adopt certain sustainable practices before they hand over their assets. Interestingly, the benchmark includes things like the source of power, building material used, the type of glass used, and space for waste management, among others. Today, buildings are rated by the Indian Green Building Council as platinum, gold and silver. The better the rating, the higher the premium rent owners can demand.
Interestingly, the Net Zero commitment by countries, especially in Europe, has put a lot of landlords and occupiers at a deadlock, especially with older buildings. Most new buildings adhere to the new standards.
Unfortunately, India does not have a clear ESG (Environment, Social and Governance) mandate from the regulator standpoint for the real estate sector. Despite that, companies like ours are taking proactive steps to be more sustainable.
How is new tech like AI helping WeWork offer a better experience to customers?
We are trying to use our building management systems that have machine learning and AI built in. It recognizes time-pattern, occupancy rate, and energy use, among others. We are using spatial analytics through an AI program which shows us how people are using the space. It will help us when we design our new buildings. AI can also help us build a better roster system. For customers, it will help us in designing more comfort. Yet, I think, we are using only a small bit of the emerging technologies. There's still a lot more we can do.
I heard you support interesting community development initiatives
Yes. We support Myriam Shankar's community initiatives through her NGO The Anonymous Indian Charitable Trust (TAICT). TAICT has adopted Tarahunise village in Devanahalli Taluk. Her Ecogram initiative plays a critical role as an interface between the government and civil society. It trains community members to manage their village's ecology and their lake better.
Living With Leopards is an exciting initiative we support. In collaboration with the Sanjay Gandhi National Park, we have enabled the profiling of 20 leopards from this landscape. The Nature Interpretation Centre helps range officers at this park.
We have begun the sustainable journey in earnest. There's still a long way to go for us and the real estate sector in India. The faster we do, the better it is for the planet and our local ecosystem.