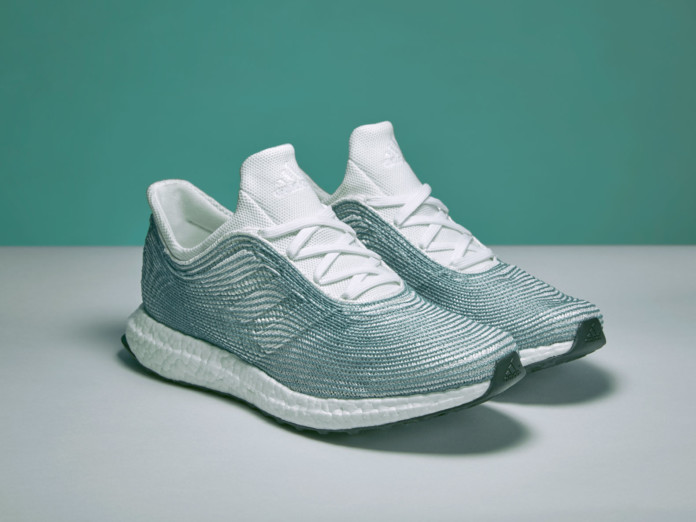 The German athletic gear giant Adidas is a long-running a leader in sustainable clothing, and is taking a closer look at how it can manufacture its popular sneakers more responsibly. The result is a partnership with the Parley for the Oceans initiative, which brings stakeholders together to raise awareness about the surging amount of plastic that is accumulating in the world's oceans.
Adidas says its work with Parley rests on a three-point strategy: avoid the use of virgin plastic, gather plastic waste from the environment when possible, and redesign footwear and apparel so that it is both sustainable and performs better. In a pilot last year, the company made 7,000 pairs of athletic shoes from ocean plastic accumulated near the Maldives, reports Business Insider. Those sold for $220 a pair. Adidas judged the effort a success, and says it now has bigger plans for the latest iteration of its fashion-forward line of upcycled Ultraboost shoes.
Earlier this spring, Adidas, Parley and fashion designer Stella McCartney released a white athletic shoe with an upper made from this recycled plastic. And the company told the United Kingdom daily The Independent it plans to manufacture 1 million pairs of Ultraboost shoes made from repurposed ocean plastic this year.
Each pair of Ultraboost shoes are comprised of an average of 11 plastic bottles salvaged from the oceans, say Parley and Adidas. Recycled PET plastic is used in the laces, heel webbing and lining, as well as the sock liners.
And Adidas, always in fierce competition with companies such as Nike and Puma, insists this is not a token effort to raise awareness about pollution or to boost the firm's sustainability chops. The company says its recycled plastic shoes are lightweight – and are designed to withstand the demands of athletics while providing the necessary cushioning needed for joints, arches and the Achilles heel.
The convenience of plastic and society's affinity for disposable products have caused mounting plastic waste, which is both overwhelming and depressing, and the problem shows little sign of slowing down. On the flip side, the crisis has brought organizations together to find ways to stop the onslaught of garbage ending up in the oceans — and new ideas for technical solutions are always emerging.
The challenge, however, is scale: Suggestions such as turning recovered ocean plastic into fuel, or even construction materials, are certainly creative approaches. But so far they have not been able to tackle the challenge of cost effectiveness.
The work of Parley and Adidas, however, is compelling on two fronts: These sneakers not only upcycle plastic that otherwise would contaminate beaches and kill marine life, but they also support a campaign that can nudge consumers to think twice before grabbing that plastic item.
http://www.triplepundit.com/2017/04/another-line-shoes-made-ocean-plastic-adidas-launches-soon/
First published in Triple Pundit