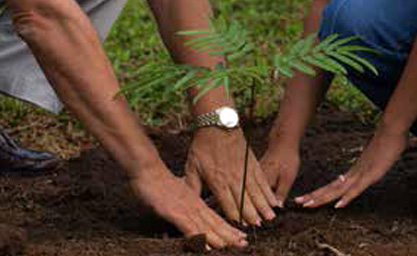 Reclaiming forests and greening of arid land is everyone's wish. Translating this wish to reality is finally possible, in a significant way, through massive funding, legal backing and a more efficient monitoring system.
The Government of India is all set to get legislative backing for its Compensatory Afforestation Fund Bill 2015. The Bill's primary objective is to increase green cover across India, but specifically it sets up an institutional mechanism and efficient monitoring for spending a massive Rs. 38,000 crore that is already in the kitty. This fund can also be used for wildlife care and ecological services.
The agency that will come up will also have to monitor Rs. 6,000 crore that is expected to be available annually for the purpose of conservation and expansion of wildlife.
The fact that the emphasis is on effective monitoring of fund use at both the central and state levels, the chances of this Bill'  success is high. At last, there may not be coordinator, received the award from Mr Bhaskar Chatterjee, Director General & CEO, Indian Institute of Corporate Affairs. an excuse to employ a well trained and equipped forest and wildlife protection force – a big need in India.
Another major benefit of this Bill is in the context of massive acquisition of forest land for infrastructure development. The Bill mandates that the estimated compensation amount for rehabilitation has to be deposited with this body before final transfer of land.
In the macro context, this initiative will bolster India's effort to cut its carbon footprint, which is a concern because of the environmental fallout of its rapid economic growth in the coming years.