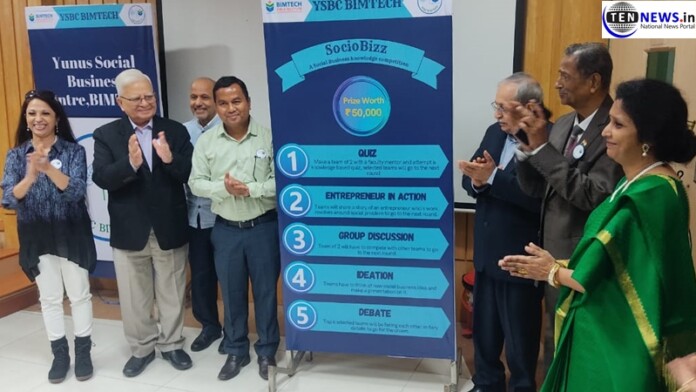 Noida-based business school, BIMTECH, has joined a list of business schools in India to start the Yunus Social Business Centre. The purpose of starting such a centre is to offer management students a dive into exploring the real purpose of a business. Business schools are seen as producers of managers whose only purpose is to maximize profits for their employers. Some have taken upon themselves the challenge of changing this paradigm.
To Prof. Muhammad Yunus, the propounder of the 'social business' concept, social business is "A business that is created and designed to address a social problems." Social businesses are a no loss, no dividend entities. That does not mean executes or entrepreneur don't have to pay themselves well. It is a win-win for all.
Inaugurating the Yunus Business Centre at IIM Bangalore in 2017, Prof. Yunus said: "When you take off your money-making glasses and wear the social business glasses, you can see much more and make anything happen with your creativity."
Through this centre, BIMTECH plans to build a community of researchers, practitioners and academicians to spread the concept deeper and wider. BIMTECH is hosting an international competition called 'SocioBizz' to mark the beginning of its journey and a conclave in November 2022.
Centres started by universities are typically to teach the social business concept. Some, like IIM Banglaore, has a
As per the last count, there are 97 Yunus Social Business Centres across the world and 15 in India. Here's a list of universities that have started YSBCs:
Sharda University
SSM College of Engineering
Chandigarh University
Dr. Bhimrao Ambedkar University
Ashoka University
Kalinga Institute of Social Sciences
Amity University Rajasthan
Amity University Haryana National Kaohsiung
JAIN (Deemed-to-be University)
Birla Institute of Management Technology (BIMTECH)
Krea University
Vivekanand Education Society's Institute of Management and Research (VESIM)
Mizoram University
Career College, Bhopal
Karnavati University
Source: https://www.muhammadyunus.org/post/1712/list-of-yunus-social-business-centre-ysbc